It's interesting that the newest iteration of Swiftboating rears its ugly head on the day we try to Reset the Net. The thing the new swiftboaters, like Allen West, should remember is that the internet is forever. Write something once and it's there forever.
So, let's take the war criminal Allen West as an example.
Don't feel like you have to click on the link as Allen West's site deserves to die of loneliness, but back on Dec. 10, 2013, he wrote an article entitled The men Obama has abandoned. In it, he wrote,
President Obama is in South Africa for his self-gratifying opportunity to get before cameras for the funeral of Nelson Mandela and shake Raul Castro's hand. As we wrote Sunday evening, seems that British PM Margaret Thatcher was not deserving of his time or attention.

It got me thinking of others who seemingly do not deserve President Obama's time or attention. In the military we live by a code that defines our commitment to each other, an undying devotion of "Leave no Man Behind."…

Then there is Army SGT Bowe Bergdahl still held by the Islamic terrorist Haqqani network, probably in Pakistan, in the same place where Osama Bin Laden was hiding. This past POW/MIA national day of recognition, Defense Secretary Chuck Hagel reiterated a pledge to secure the young Army NCO being held captive, but have there been any actions? Any time, attention, or even mention from the Commander-in-Chief? Nah, no camera highlights in it for him.
Now that Obama secured Bergdahl's release, you'd think West would offer his thanks and congratulations? But remember, we're in opposite world where Republican hypocrisy is the law of the land. West's statement on the prisoner exchange, instead of praise for the president West called for his impeachment!
Obama just released the leadership of a terrorist organization, and what did we get in return? A deserter, who by his own self-proclamation harbors anti-American sentiments — which it seems that Susan Rice, our esteemed National Security Advisor, didn't even realize his heinous actions — or maybe as usual she just lied about it again. Bergdahl served the United States with honor and distinction? Let's not send Susan Rice out ever again.

To hear Obama state that "no American should be left behind" — has he forgotten about Benghazi and Marine SGT Tahmooressi? How about leaving behind American veterans to die?

Ladies and gentlemen, I submit that Barack Hussein Obama's unilateral negotiations with terrorists and the ensuing release of their key leadership without consult — mandated by law — with the U.S. Congress represents high crimes and misdemeanors, an impeachable offense.

So I call upon the leadership of the U.S. House of Representatives; Speaker John Boehner, Majority Leader Eric Cantor, Minority Leader Nancy Pelosi to draft articles of impeachment as no one is above the law in America. The failure to do so speaks volumes.

"A deserted, who by his own self-proclamation harbors anti-American sentiments.." Has there been a court martial about which the rest of us are unaware? No, I didn't think so. And consider the source of this drek: a war criminal who should be in the brig!
West isn't the only one who apparently believes more in following the right wing talking points than their own beliefs. Like the GOP nominee in Iowa's senate race to replace the retiring Tom Harkin, Joni Ernst. Ernst tweeted her support for the freed soldier, only to later delete it and pretend she never felt the things she said.
Ernst wasn't alone in Tweeting then deleting™ …  As Chris Cilizza pointed out at the Washington Post, there were a number of Republicans guilty of Tweeting first, getting smacked down later.
And that's not all! SantaFeMarie over at Daily Kos took a little trip in the Wayback machine and found a bunch of Republicans, like West, who had been screaming about POW Bergdahl languishing in Taliban captivity… until Obama secured his release.
My prayers are with the family of Pfc. Bowe Bergdahl, the U.S. soldier seen on the Taliban abduction video released this weekend. The Jawa Report has the full clip.All Americans should hope and pray for his release from jihadi custody.

"Todd and I are praying for Private First Class Bowe Bergdahl, his family, and all of his fellow soldiers who are putting their lives on the line to defend our freedom and protect democracy abroad," Governor Palin said. "The capture of Private Bergdahl and the bombings in Jakarta prove that we have not defeated terrorism, and that radical extremists will stop at nothing to attack Westerners and our ideals."

This June will mark five years since Bowe Bergdahl was captured by the Taliban. After so long in captivity, DoD must redouble its efforts to find Sergeant Bergdahl and return him safely to his family," Ayotte wrote in a letter this week to Defense Secretary Chuck Hagel.
There's lots more there, so I encourage you to click over and read the whole article, plus this from the Rupert Murdoch owned and operated editorial pages of the Wall Street Journal 
 looking forward to the day when Bergdahl – despite the "murky" circumstances of his capture – gets to lead an independence day parade.
Opposite World and the return of the Swiftboaters, indeed.
This morning I reached out to and spoke with Col. Morris Davis, Guantanamo chief prosecutor from 2005-2007. 25 year Air Force vet, and Assistant Professor of Law at  @Howard University, whois amazed at the politicization of a returned prisoner of war.
As I mentioned, today is the day that we don't ask for our privacy, we take it back. It's Reset the Net day. Tim Karr, senior director of strategy for FreePress.net and SavetheInternet.com joined me to talk about this campaign aimed at informing internet users about the steps we an all take to keep prying eyes out of our online business. We also got an update on our continuing fight to preserve Net Neutrality and fight back against the FCC plan for a high speed (high cost) lane.
And finally, as she does every Thursday morning, Amy Simon of She's History brought us some fabulous female facts. Today, we learned about the real Susan B. Anthony! If you're in Los Angeles, be sure to check out the free staged reading on June 21.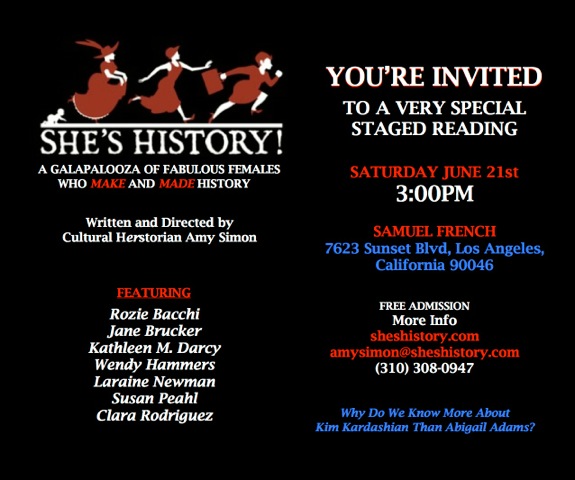 Tomorrow, another Friday show – with open phones (call in at 954-889-6410 or Skype to nicolesandler) and from the musical archives, David Byrne (Talking Heads) from July 1994 at KSCA fm101.9 in Los Angeles…