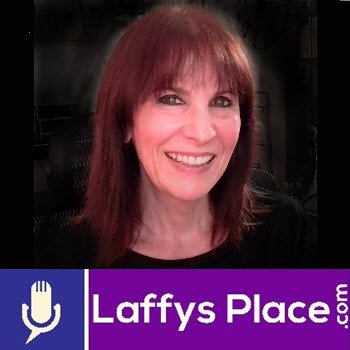 GottaLaff or you cry: That's what my pseudonym means, a name I scrambled to create after author, columnist, and dear pal Cliff Schecter unexpectedly took me under his wing and magically transported me from show biz to the world of political commentating. I continue to use a pseudo for security reasons.
I'm a California native, a UCLA grad (pictorial arts), a former actress, writer, and comedian, and take pride in my vast experience bellowing catcalls at what passes for TV news.
Once upon a time, I wanted to be a Disney animator. I nearly became one, too, after being interviewed by (not kidding) Donald Duckwall at Disney Studios.
But then I moved to San Francisco and apprenticed for an Oscar-winning animator before moving back to L.A. where, after years of denial, I finally admitted to myself that I was a closet actress and took the plunge: I got a commercial agent and a theatrical (TV, movies) agent and realized my dream. I supported myself as a cartoonist throughout my acting career, so that good ol' pictorial arts major paid off.
A turning point came when I attended an acting seminar featuring a panel of A-Listers: Dudley Moore, Jack Lemmon, and a female TV writer for "Laverne and Shirley." I hung on every word the writer said, especially the part about, "Get into improvisational comedy. Do it. Just do it." I did it (not an easy move, I was terrified and had to force myself), and ended up in a group where I got to work regularly with Robin Williams, Garry Shandling, and John Ritter, just to name a few. Nothing prepares you for acting success– and failure– like performing improv comedy.
Improv led me straight into a comedy duo with regular spots at the Improv, the Comedy Store, and every other venue in town. We not only performed, but we also wrote our own material, which was great training for my eventual TV, theater, and finally, political writing. I even got hired right off the Comedy Store stage for a guest role on "One Day at a Time."
After a lengthy career as a TV actress (small parts, but hey, I managed to make a living doing some cool shows), I got pregnant. Really, really pregnant: Twins! Gaaa! Since acting roles for human condominiums weren't in great demand, I switched to script writing. Eventually, my boys steered me in a whole new direction that involved young kids, teens, and college students.
I started a brand new career teaching and directing theatre and comedy acting/improv at several public schools. For years, I worked at a public theater arts magnet school where I started a teen improv troupe that ended up winning county-wide competitions against established adult improv groups. They made me so proud.
I even directed Dick Van Dyke (!!) in a stage production for a couple of years after he watched me teach my comedy class and– wait for it– asked me to help him "make his show funnier." Dick Van Dyke wanted ME to make HIM funnier. *Faint*
While all that was going on, Cliff Schecter dragged me into blogging. I became co-editor and publisher of The Political Carnival website for years. My first real radio gig popped up when a story I wrote went viral worldwide and top-notch radio host Angie Coiro tweeted me and asked if I would guest on her San Francisco show. Next thing I knew, she invited me to be a regular and we became fast friends. After that I showed up on the Stephanie Miller, Thom Hartmann, Randi Rhodes, Michelangelo Signorile, Tim Corrimal, (Virtually Speaking with) Jay Ackroyd shows, thanks in part to invitations by Lizz Winstead and John Fugelsang.
As luck would have it, Nicole Sandler found me on Twitter, too, which resulted in our teaming up weekly at Radio Or Not.          
We've had all kinds of wacky, zany misadventures, including doing the show live from Netroots Nation where we also managed to corner Barney Frank for an interview; and there was the time when Nicole visited L.A. which prompted our infamous "drunk show": The "Gliberal Goddesses" (Nicole, Amy Simon, and me) broadcast live from Amy's apartment while downing a bottle of wine live on air.
Which brings us to our new digs at here NicoleSandler.com. After several wonderful years together, Nicole and I are still at it, expanding and even collaborated with Randi (RandiRhodes.com)! I couldn't be happier.
My blog can be found at Laffy's Place (with its very own URL, LaffysPlace.com) right here at NicoleSandler.com where my posts range from the lighter– okay, demented– side suitable for pointing and laughing, to heartfelt liberal rants.
Who could ask for more?