Read on… or click here to visit my new site featuring my artwork. It's at PaintYourPets.net.
Before the pandemic hit, I used to spend my weekends volunteering at our county's animal shelter. I walked and played with the dogs, and helped them find new humans.  That was until mid-March of 2020.  It was during those months of sheer boredom that I ordered a "How to Paint Watercolor" book for adults and began painting. I soon moved to acrylics, and haven't looked back since!
I've only been at it since last October. But I'm having fun, and it helps with the stress of life that began in 2020 and is lasing into 2022…
My new hobby (and later-in-life newfound talent) developed. I'd post pictures of my paintings on social media. I started with sunrises and sunsets, usually over the ocean.
One day, a listener wrote and asked if I would paint a portrait of her cat Buddy. Having never attempted anything like that, I said I'd try. And it actually came out pretty good!
Then an old friend asked if I'd try my hand at her dog Char.  (Buddy is the first of the paintings below, Char is the second.)
If you're interested in a custom portrait of your pet, I'm happy to give it a shot. Because of the time and effort involved, custom portraits start at $85 and up, depending on size, number of pets, and complexity of the picture.  Email me and we'll talk!
And something new– faux stained glass suncatchers! Scroll down for more info and pictures.
Thanks for looking!
Nicole
Available Originals
All of these are available!  Please email me first for a price and to make sure the one you want hasn't been scooped up yet. (If it is, I can paint a new version of it too…)
Faux Stained Glass Suncatchers
These are faux stained glass suncatchers, made with a process that I stumbled upon. Custom commissions also accepted.
Already Claimed (But If You Really Want One…)
All of these have already been claimed by their new owners. But if you want on, I'm happy to re-create any of these paintings.
Just email me, and we'll set a time to talk.
A Bernie Mittens Meme Fundraiser!
While I'm still painting your pet portraits on commission and continuing my artistic explorations with other paintings, I decided to try my hand at the Bernie Sanders Mittens Inauguration photo that went viral. I painted it this weekend, and the response was awesome!
I posted it on Facebook and Twitter, and was amazed at the response. A number of people asked about buying it, so I thought, AUCTION TIME!
The original painting (8″x8″ on stretched canvas, acrylics) is available for auction now. Just follow the link.
And I'm offering another, custom edition. In the memes that went viral, Bernie was everywhere. This will be truly custom. Customizable elements: canvas size — from 8″x8″, 10×10, 9×12, 11×14, 12×12. You can customize the colors of Bernie's pants, jacket, shoes and even his face mask. And I'll paint Bernie in the background specified by the winning bidder in the Custom Bernie Mittens Meme Painting auction. That one's here. 
All proceeds benefit The Nicole Sandler Show!  Happy Bidding!
** Update: The auction has ended and we have a winner. They wanted Bernie on a stark white background, holding a white flag. Here it is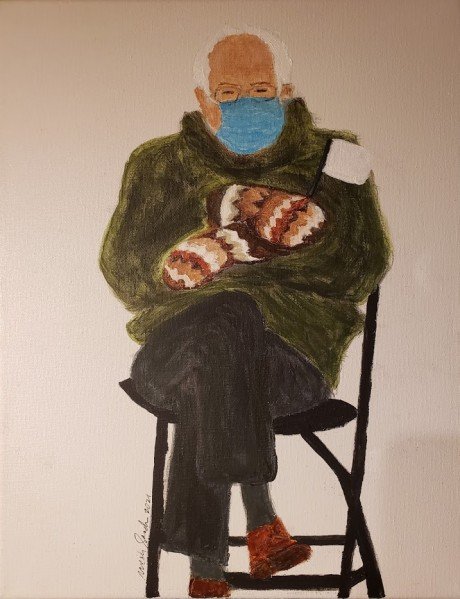 If you want your own Bernie meme custom painting, just reach out. Let's talk!