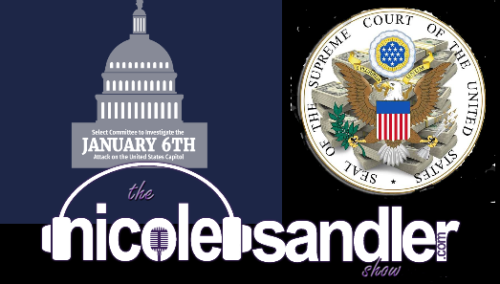 Download here or click below to play, (or watch the video at the bottom of the page!)
It was another devastating day of testimony as the House Select Committee investigating the events surrounding the Jan 6 attack on the Capitol, today focusing on Trump's scheme to get states to throw out the legitimate electors to steal the election for him. We heard from AZ and GA officials– The Arizona Speaker of the House Rusty Bowers, and Georgia's top two election officials Gabe Sterling and Brad Raffensberger, all Republicans who understood that it's the Constitution over party and all stood up to Trump and did the right thing. We also heard from Shaye Moss and her mother Lady Ruby Freeman, They were poll workers in Fulton County, GA and scapegoated by Rudy Giuliani. He called them out by name and accused them of changing votes and other bullshit allegations. As a result, these women's lives have been destroyed. It's just heartbreaking what those people did to them.
We spent most of the show listening back to the presentation. Everyone needs to hear it.
But the day began with SCOTUS. The very lopsided high court handed down decisions in five of the remaining 18 cases from this term. One of them has major ramifications regarding separation of church and state. Rev Barry W. Lynn joined in at the top of the show to explain what happened…  By a 6-3 vote along ideological lines, they continued gutting the concept of separation of church and state. And in this case, it's just one particular strain of "church".