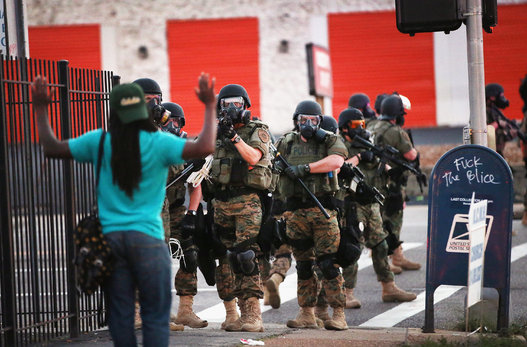 …the more they stay the same.
The photographer who shot that iconic photo at the top of the page was arrested last night in Ferguson, MO. Scott Olsen, a photojournalist for Getty Images, has brought the reality of what's happening in Ferguson to the rest of the world via his amazing photos, many of which can be seen here. 
Apparently, the police didn't want Olsen doing his job where he was standing- as if they wanted him to do his job at all..
Scott Olsen wasn't the only member of the media arrested last night. We know of at least two others.
Intercept reporter Ryan Devereaux was arrested this morning while on the ground covering the protests in Ferguson, Mo. According to St. Louis Post-Dispatch photographer David Carson, who witnessed the apprehension, Ryan and a German reporter he was with were both taken into custody by members of a police tactical team. They were handcuffed and placed in a wagon, and Carson was told they were being taken to St. Louis County jail.

…

Update: Johnson and his colleagues did not take the "proper action." Ryan spent the night in St. Louis County Jail, where he remains this morning. According to officials there, he is due to be released without charge—the initial pretext for his detention was "failure to disperse"—within the hour. Ryan and Lukas Hermsmeier, a reporter for the German newspaper De Bild, were both apprehended last night—and shot with beanbags and rubber bullets—while attempting to return to their car after a night of reporting. When they were shot at, they had their hands raised in the air and were shouting, "Press! Press! Press!"

Second Update: Ryan has been released. And a correction: While the situation is still not entirely clear, I believe now that both Ryan and Hermsmeier were hit with beanbags, but not rubber bullets as reported above. Also, I've updated the post and the headline to reflect the fact that Ryan was in fact arrested and jailed overnight, not merely detained.
Ryan Devereaux's Twitter stream from last night tells the story of a police force in over their heads and seemingly out of control.
APC just rolled by this young man, commando cop on top of the vehicle leveling a large gun at nobody in particular pic.twitter.com/4X14u2Fu4B

— Ryan Devereaux (@rdevro) August 19, 2014
Passing this group of officers, one of them raised his rifle at me, flashed the light on it into my camera pic.twitter.com/07QPra9fSh — Ryan Devereaux (@rdevro) August 19, 2014
Police on megaphone: "If you are standing still or standing in the street you may be subject to arrest"

— Ryan Devereaux (@rdevro) August 19, 2014
Police flooding the area, gas in the air. Had to warn cops with guns drawn that they were approaching journos seeking cover in a car wash — Ryan Devereaux (@rdevro) August 19, 2014
Police just pushed into the remaining crowd. At least four people arrested. pic.twitter.com/NQOOmEn0ad

— Ryan Devereaux (@rdevro) August 19, 2014
Police have informed us there is a "public safety issue." Unclear if they're referring to the suffocating cloud of tear gas they unleashed. — Ryan Devereaux (@rdevro) August 19, 2014
And finally,
So much smoke in this neighborhood right now, seems like the police succeeded in clearing out the rest of the demonstrators

— Ryan Devereaux (@rdevro) August 19, 2014
That was Ryan Devereaux's last tweet last night. This morning, he tweeted this:
Out of jail. Too many still in there. Phone is dying, be back soon.

— Ryan Devereaux (@rdevro) August 19, 2014
Aside from the Twitter play-by-play accounts, you might be wondering what year this was.
When I heard that Missouri Gov. Jay Nixon was sending in the National Guard, the first place my mind went was back to Richard Nixon and Kent State.  In his 2008 book Nixonland, Rick Perlstein wrote about the rise of the militarized police.
Rick has a new book out, The Invisible Bridge: The Fall of Nixon and the Rise of Reagan, and he joined me on the show this morning to talk about it.  (Since I only got the book yesterday, I haven't had time to read it. Rick promised to return after I do for another conversation.) Obviously, we spoke about the parallels between the two eras.
And in hour two, GottaLaff joined in for our weekly segment, the Gliberal Goddesses. Obviously there was much to talk about today, most of it Ferguson related. But I had a few things to get off my chest too…
Now I'm battling the beginnings of a cold/fluish kind of thing. So it's off to get some rest. Tomorrow, Susie Madrak and Thomas Frank join me… Radio or Not!