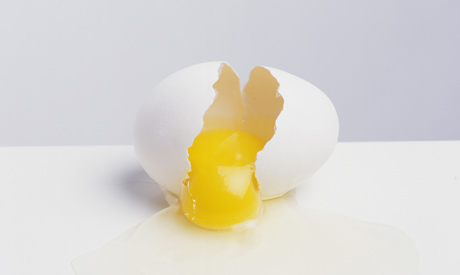 Behold the egg… or not.
If you're like me, you thought the egg couldn't be bad.  Of course the yolk is full of fat, but the egg whites? The perfect protein!  Or not.
It seems that the rise of the factory farm, which has grossed us out on every meat imaginable, has now also destroyed the previously incredible, edible egg.
We'll delve into the disgusting places our food comes from with Jill Richardson, the woman behind La Vida Locavore and author of Recipe for America: Why Our Food System Is Broken and What We Can Do to Fix It.
Today is also primary day in a couple of hot states (Florida & Arizona) and a couple of cold ones (Alaska & Vermont)… We'll check in with Tim Carpenter of Progressive Democrats of America and find out what they're up to.
After a news report from Talk Radio News, we'll hang with Gotta Laff from The Political Carnival and talk about all the crazy shit in the news.  And we'll delve into her latest Blunt webisode.  You can see it for yourself here too…