I am not a soccer fan. That makes me in the distinct minority among the world's population, as most of the planet is is in the throes of fútbol mania as the "FIFA World Cup" is underway in Brazil.
My favorite sports writer, Dave Zirin of The Nation, has been ready for this global event for a while now, as he'd been working on his new book, Brazil's Dance with the Devil: The World Cup, The Olympics, and the Fight for Democracy in anticipation of the agony and ecstasy now underway.
His dispatches at The Nation are fascinating and required reading and, as is the case every time I speak with Dave, it was a fascinating conversation that also covered the racist name of the Washington DC NFL team, and the latest news surrounding the calls for the team's owner to change it!
For more background information on FIFA, we turn to John Oliver:
I started the show today with a two-fer of awards for the World's Biggest Asshole.
Award #1 went to former Montana Governor Brian Schweitzer who, in a far-reaching profile called "The Gonzo Option" at National Journal, said some pretty unbelievable things!
The first one that got people asking, "Did he really say that?" was this, in response to Eric Cantor's primary defeat in Virginia last week:
"Don't hold this against me, but I'm going to blurt it out. How do I say this … men in the South, they are a little effeminate," he offered when I mentioned the stunning news. When I asked him what he meant, he added, "They just have effeminate mannerisms. If you were just a regular person, you turned on the TV, and you saw Eric Cantor talking, I would say—and I'm fine with gay people, that's all right—but my gaydar is 60-70 percent. But he's not, I think, so I don't know. Again, I couldn't care less. I'm accepting."
And another, this on the subject of Senate Intelligence Committee Chair Sen. Dianne Feinstein
She was the woman who was standing under the streetlight with her dress pulled all the way up over her knees," Schweitzer says of Feinstein, "and now she says, 'I'm a nun,' when it comes to this spying I mean, maybe that's the wrong metaphor—but she was all in!"
Wow!
For the second day in a row, we had to call out the biggest Dick of 'em all, Cheney. He and his daughter Liz co-penned an op-ed published yesterday by the Wall Street Journal in which the war criminal actually wrote, among other incendiary statements
Rarely has a U.S. president been so wrong about so much at the expense of so many.
When asked about it by ABC's Fox correspondent wannabe Jonathan Karl, outgoing White House Press Secretary Jay Carney merely responded by asking
Which president is he talking about?
Hell froze over for a second day in a row, as Megyn Kelly challenged the evil Cheney duo about their self-righteousness in an interview last night
"But time and time again, history has proven that you got it wrong as well in Iraq, sir," Kelly said. "You said there was no doubt Saddam Hussein had weapons of mass destruction. You said the Iraq insurgency was in the last throes, back in 2005. And you said that after our intervention extremists would have to 'rethink their strategy of jihad.'"

"Now with almost a trillion dollars spent there, with 4,500 American lives lost there, what do you say to those who say you were so wrong about so much at the expense of so many?" she asked.

"No, I just fundamentally disagree, Reagan — Megyn," Cheney responded. "You've got to go back and look at the track record. We inherited a situation where there was no doubt in anybody's mind about the extent of Saddam's involvement in weapons of mass destruction."

Kelly continued to grill the Cheneys on the withdrawal of troops from Iraq. At one point Liz Cheney said that Kelly's line of questioning demonstrated why she and her father formed a nonprofit organization, the Alliance for a Strong America, to combat Obama administration policies they believe undermine American security.

"There's no surprise, frankly, that there are a lot of people now who would like to say let's blame the Bush-Cheney administration for what happened," she said. "That's a pretty routine thing we hear from this administration."
That sound you hear is heads exploding all over Faux News land!
Also on the show today, Amy Simon of She's History with some fabulous pacifist female facts about Jeanette Rankin, Bella Abzug and Barbara Lee.   If you're in the Los Angeles area, you can go see a reading of the new version of the play "She's History"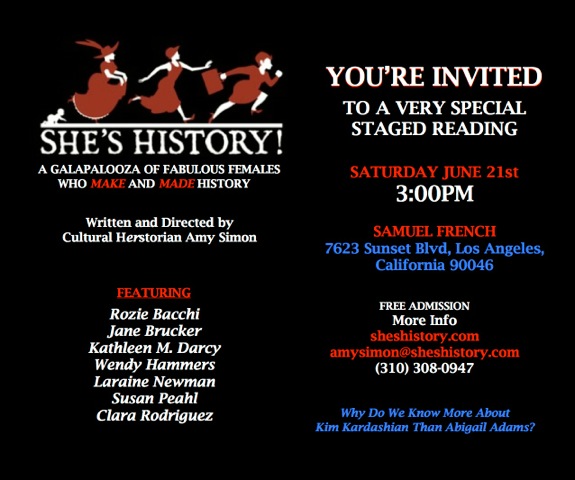 And we wrapped things up with our weekly NO MORE BULLSHIT MINUTE with Stephen Goldstein, author of The Dictionary of American Political Bullshit.   Today, we discussed the truly bullshit term "Boots on the Ground." It's not boots we're concerned with, it's human lives.
We'll be back tomorrow with the Friday edition of the show, featuring your calls and, from the archives, my interview with Randy Newman, plus performance, from 1999. See you then, radio or not!