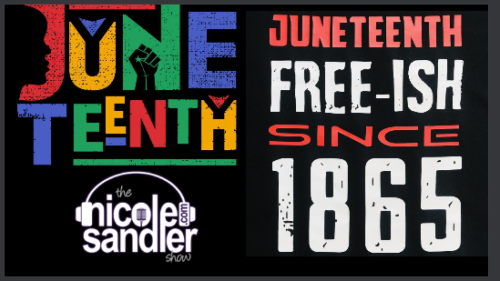 Download here or click below to play, (or watch the video at the bottom of the page!)
Today is a federal holiday. It's Juneteenth, a holiday that commemorates the day the last still-enslaved African Americans were made aware they had been emancipated. Freedom Day is how some refer to this day. And though that's a nice sentiment, it's still aspirational.
Like many others I'm sure, I thought we had come further than we actually did. But then again, I'm a white woman. I know one thing, and that's that I can't know what it is like to be Black in America. I have my own experiences of being discriminated against– as a woman, as a woman over 60, as a Jew, and in other ways too. But I do not have the experience of being discriminated against because of the color of my skin.
Except when I have. But it's different.
There's controversy around today's holiday. On social media, some people are complaining that white people are getting the day off, while Blacks are still having to slave away…
And others are offended by the crass commercialization (Walmart sold a Juneteenth flavor of ice cream, while the Indianapolis Children's Museum offered "watermelon salad"…)
Today, I open the phones for your calls about the holiday and your thoughts on it. 954-889-6410 or Skype to nicolesandler.
I have a great playlist for the day should the segment not be productive. If I decide to go that way, I'll end the video stream, but you can keep listening to the audio at nicolesandler.com/listen-live, nicolesandlerstream.com or progressivevoices.com.