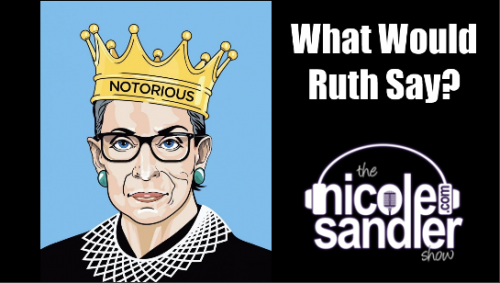 Download here or click below to play, (or watch the video at the bottom of the page!)
I was out yesterday, sidelined after my second Moderna vaccine. It affect everyone differently, but I had heard from a few people that the second one really took its toll, and that was true for me. I'm feeling much better today, but still not 100%. So today's show will be a bit different than what I had planned…
I'll be speaking with Amanda L. Tyler, a law professor at UC Berkeley who clerked for Justice Ginsburg 20 years ago, and worked with her for the last few months of her life on this new book, Justice, Justice Though Shalt Pursue: A Life's Work Fighting for a More Perfect Union.
Instead of spending the first half hour recounting the insane news made yesterday, I'll save that for the end of the show and play What's News.
At the top of the show, a conversation with the Marsh family, with whom I've become somewhat obsessed. They're in the UK, and have been making some amazing videos of their song parodies dealing with life during the pandemic. I think you'll become enamored with them too.
I did have a slight technical mishap with the Marsh Family interview. So I fixed it, and here's the whole thing, with their parody of Bonnie Tyler's "Total Eclipse of the Heart" called "Totally Fixed Where We Are" in the middle.
At the end, I also shared this wonderful rendition of "Amazing Grace," reworked as a Black Lives Matter anthem in June of 2020, after the killing of George Floyd by Minneapolis PD outraged the world.
And I started the show with this one from our old friend Bruce W. Nelson (aka Mangy Feltlocks), an ode to Brian Kemp (Jim Crow)
And here's today's show on video, for those who like to watch.