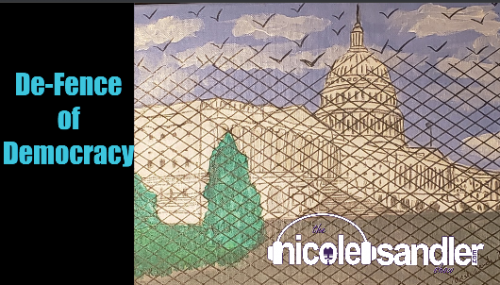 Download here
or click below to play, (or watch the video at the bottom of the page!)
The second impeachment trial of Donald Trump is history, and the Biden administration is ready to move on. But the effects of Trump pervade almost every part of American life.
Today, I'm joined by OG blogger Driftglass to get his perspective on American life in the post-Trump era (and whether or not it IS the post-Trump era). Check out the Professional Left Podcast, hosted by Driftglass and his awesome blogger wife, Blue Gal Fran
But first, I've been troubled by the idea of making the fence around the US Capitol in DC permanent. The idea of putting the seat of the US government behind a barrier is an anathema to everything this nation is supposedly based on. I worked on a painting depicting my concern this weekend (see the cover art for today's show).  aI just finished it last night. I awoke this morning to an article about a coalition of left and right organizations sending a letter to leadership expressing concern and opposition to the proposed permanent fencing surrounding the US Capitol. I'll speak with Arthur Rizer of the Lincoln Network, one of the groups who spearheaded the protest.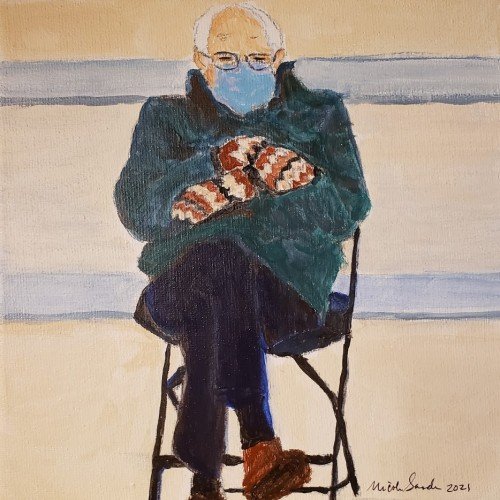 Again, a reminder about our auction currently in progress. I'm auctioning off my painting of the Bernie Mittens Inaugural Meme. It's acrylics on an 8'x8′ stretched canvas. Bidding for that one is here.  
Also up for auction, a custom Bernie meme painting. I'll put him in the setting of your choice, on a canvas size of your choice. And I'll customize the colors of his clothing and mask, and will even put a message on the mask if you want it! Truly custom. Bidding for that one is here.
I played a couple of wonderful new songs that fit the theme from our friend Mangy Fetlocks, aka Bruce W Nelson
And here's the entirety of today's show, via YouTube