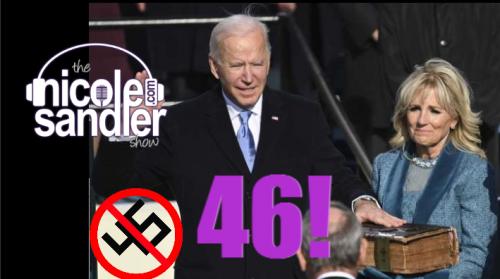 Joe Biden and Kamala Harris were sworn in today as President and Vice President of the United States, and Donald Trump slithered away to the Florida swamps where he'll feel right at home. We'll celebrate and gloat.
Historian and author Harvey J. Kaye joins me for the fun… and my good mood. Although I'm celebrating today, I will continue to hold the administration accountable, and push them to do what's right! But today, it's all good!
Not only was the inauguration of our 46th POTUS cause for celebration, but some other good things happened today too…
My latest CT scans were clear, so all good on the lung cancer front. (I got the call from the doctor in the midst of all of today's festivities.)
We have our first female VP who also happens to be of -Indian and Caribbean descent
Trump is gone! His family is gone. Pence is gone!
VP Kamala Harris, in her role as Senate President, swore in Jon Ossoff, Raphael Warnock, and Alex Padilla as US Senators.
Democrats now have control of the Senate!
and more…
I got to see Gregg Alexander and New Radicals perform "You Get What You Give" as part of the Virtual Parade Across America. I love that song, and the whole album. When it was released in 1998-99, I was on the air in Los Angeles, and was a big champion of the record. Gregg Alexander hated the spotlight, so stopped performing shortly thereafter. I had one of the rare interviews (with performance) he did. I'll share that with you here, now. It's posted here!
I played a few celebratory videos today..
This one from MeidasTouch and Bette Midler:
This one from Dale Callstrom
And this new one from Shirley Serban in New Zealand!
And finally, today's show on video…