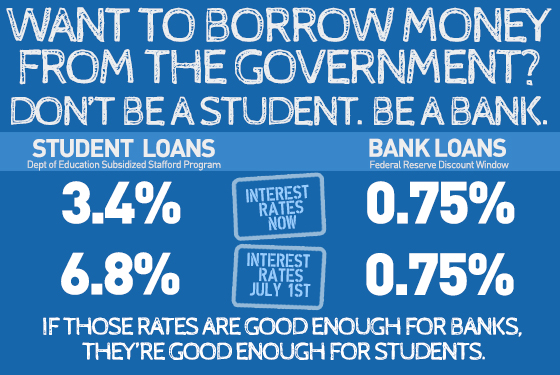 I'm one of the lucky ones. My father paid my way through college, as he did for my two sisters as well. We all went to Florida state universities and, back in the 1970's and 80's, tuition was remarkably inexpensive.
In 2013, the average college graduate embarked on the next chapter of his or her life with $35,200 of debt and, sadly, limited career and income opportunities. Senator Elizabeth Warren had long advocated for relief and, last May, introduced the Bank on Students Loan Fairness Act, which could come up for a vote tomorrow, and would allow people with higher interest rates to refinance their student loans at the current low rate of 3.4% an option currently denied to most borrowers by federal rules.
President Obama yesterday, along with endorsing Senator Warren's bill, also issued an executive order expanding existing student loan protections, making it easier for up to five million people to pay off college tuition debt at 10% of their monthly income and forgive any unpaid debt after 20 years. The action would take effect in December 2015.
"It's going to make progress, but not enough," the president said of his executive order. "We need more." He stood with Sen. Warren and said of her Bank on Students Act, "This should be a no-brainer." According to the Huffington Post:
The Obama administration initially was hesitant to fully embrace the bill because of disagreements over how to pay for it. But with mounting pressure from advocacy groups, and with a renewed political focus on issues confronting working families, the president has softened his opposition. Obama's endorsement would be the latest recognition to date of the ascendance of Warren-style populism within the Democratic Party.
Unfortunately, neither action goes far enough. My first guest on the show this morning was Melissa Byrne,  an activist who has been involved in political/community organizing since middle school.  She works on economic justice and has worked in unions, women rights, and anti- war spaces. She has a lot of student debt and wants to get everyone's student loans forgiven, and wrote "Living With Student Loans: A broken student loan system is ruining my life."
Today and throughout this week, the President and Democratic Senators are going to announce baby steps on dealing with student loans. I'm an organizer with an insurmountable student loan burden like the 40 million other Americans with student loans. This is my story of how I came to have over $100,000 in student loans a decade after leaving school- and my hope for how this may change.

…

Now that I'm over a decade out of school, I think a lot about my over $100,000 of debt from college. That's the amount I owe after already paying tens of thousands of dollars. It's my $60,00 defaulted to Sallie Mae. It's my $20,000 with co-signers in repayment . It's my $20,000 federal consolidated. (Yes,my first college lied to me about how to take out loans and I ended up getting less federal loans and more private loans.). It's my $7,000 of my final tuition bill when I was tapped out on taking out more loans. I don't remember the original principal of my loans. But between deferrals and forbearance, I learned the tragic lesson of compounded interest.

I think about how my student loans left me with horrible credit. I think about anxiety I feel every month just to keep treading water. I remember running out of money and campaigns- scrounging for quarters for gas money until my next check came. I have no savings, and well retirement- I'll be lucky if my loans are paid off by then— let alone any savings.
I hope you'll read the rest of Melissa's story. Then click over here to see how students around the world pay for college. In 2012, Tuition.io reported that the average cost of annual tuition for a public university in the US was $8,240 and for private schools, $28,500. They compared our costs with some other nations:
1. Australia  Average cost of tuition/year: $7,700

2. Canada  Average cost of tuition/year: $5,900

3. China  Average cost of tuition/year: $2,200

4. United Kingdom  Average cost of tuition/year: $13,500

5. India  Average cost of tuition/year: $1,500 (Indian Institute of Technology system only)

6. Sweden and Germany  Average cost of tuition/year: $0
Just some food for thought. And while you're at it, think about Hillary Clinton's oh-so-sad story about being "dead broke" when she and Bill left the White House. And yes, they were paying off college loans too.
It's Tuesday, that means we spend our second hour with GottaLaff of The Political Carnival. Today, we talked about the crazy, white supremacists shooters in Nevada, the asinine Alex Jones claiming it was a false flag operation. We also talked about the right wing hypocrisy concerning the release of Bowe Bergdahl and the latest beauty queen to show she knows nothing about the world. 
Plus, Laffy brought us these stories too:
We began the show today with our newest feature, the World's Biggest Asshole of the Day! Today, that honor went to  Shawn McCurtain, a teacher at Roosevelt High School in Des Moines, Iowa who, according to 17-year old student Jabre White
had told the class to head downstairs for a final exam in economics in mid-May.

"Yes, sir," Jabre White remembered telling the teacher.

"You meant to say, 'Yes, sir, master,'" McCurtain allegedly replied.

Mother Nicholle White admitted to the paper that her son did not have the perfect response.

"Who the f*ck are you talking to?" Jabre White reportedly told McCurtain. "You're nobody's master, and this is not the slave days."

Nicholle White said that she contacted school officials after finding out about the incident, but they never would tell her what disciplinary action was taken. So, the mother took her story to the

[Des Moines] 

Register

's "Reader's Watchdog" column.

The boy's mother did explain that the asshole in question called her to apologize,and said that he meant the remarks as a joke.

As I tell my daughter all the time, jokes are supposed to be funny.

We'll be back tomorrow, with Crooks & Liars' Susie Madrak, and Cliff Schecter on his latest piece for the Daily Beast (because we haven't spent enough time talking about our gun epidemic yet)…