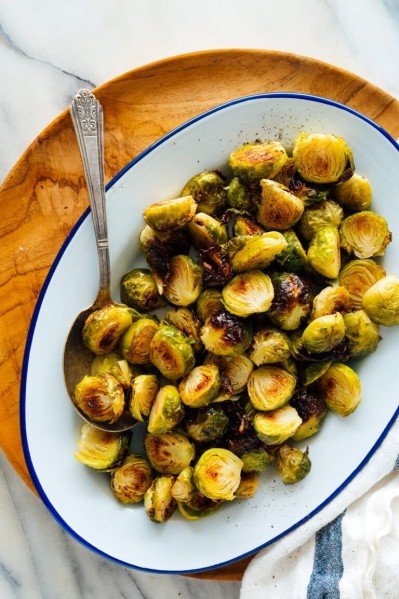 The most delicious brussels sprouts I've ever had, and easy to make!
Ingredients
Cooking spray or Olive Oil
2 pounds uncooked Brussels Sprouts
2 Tbsp extra virgin olive oil
2 1 /2 tsp kosher salt, divided
1/4 tsp black pepper
4 Tbsp balsamic vinegar
2 Tbsp maple syrup
Instructions
Preheat oven to 450
Coat large baking pan with cooking spray or olive oil
Clean and trim sprouts, cut each in half. Toss with oil, salt and pepper, and spread on baking pan.
Roast for about 20 minutes, stirring and rotating the pan halfway through.
Meanwhile, combine vinegar, maple syrup and 1/4 tsp salt in a small saucepan. over medium – medium high heat. Bring to a low boil, stirring frequently. The vinegar will reduce and, after 3-4 minutes, the mixture will become thick and syrupy.
Drizzle over Brussels Sprouts just before serving.