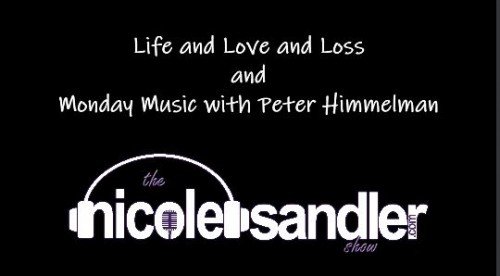 Today's show is a bit like the roller coaster of life. We have a lot of ground to cover, beginning with life, love and loss.
That part is going to take a while, so let me skip to part two of today's show — Music Monday. I was thrilled to be joined by Peter Himmelman.  He's a Grammy- and Emmy-nominated singer-songwriter, an artist on canvas as well as with music. He's an author, film composer, TV scorer, entrepeneur and performer… and more.
I first met Peter 26 years ago when we were launching "Southern California's Album Alternative KSCA fm 101.9". The morning we hit the air, Peter accompanied me to the KTLA Channel 5 Morning News to promote the fact that we hitting the airwaves. I've been a fan ever since.
One of the three songs he played on today's show was my request — "Impermanent Things". He played it on July 1, 1994 on that TV morning show to celebrate the radio station we would inhabit for the next almost three years. It was playing in my mind this weekend as I mourned the loss of two friends (see below), so I went online to see if I could find a live performance, and I found this wonderful Tedx talk by Peter Himmelman where he told the story behind that song and performed it. You can see it here.
Big thanks to Peter for a wonderful conversation and his amazing music today. It was just what I needed. On Friday, I dealt with the loss of my friend Mitchell Stollberg. A tireless advocate for Medicare for All, when Mitchell was diagnosed with leukemia a few years ago, friends held fundraisers to come up with the $6000 deductible his "affordable" health care plan had– money he had to come up with before he could get his first round of chemo.
I knew he had gone into remission. I didn't know that he was sick again. But it took him. And I know that if we had Medicare for All, Mitchell would likely still be with us today.
I knew I'd be participating in a weekend memorial and sit Shiva via Zoom… so I was unprepared for the news that hit me when I awoke Saturday morning that my old friend, Jorge Rodriguez, had also suddenly died.
I've lived through the five stages of grief twice in the past few days.
Jorge was a friend through radio. It was through Jorge that I met Boca Britany Somers. They worked together on The Neil Rogers Show. If you lived in South Florida in the 90s, you knew Neil Rogers. He was the king of talk radio down here, and Jorge Rodriguez was his producer, sidekick and fill-in.
Brit joined me on the show today to salute Jorge. It may not have been the most entertaining radio segment, but we both needed it. Here's the post she wrote on Facebook:
For those wondering what took so long, it has been a nauseating daze of shock and sorrow in processing the loss of my longtime friend and colleague Jorge Rodriguez. My most sincere heartfelt condolences to his family and especially his daughters Sabrina and Arabella.

As I write this on a soggy Fourth of July, the sound of fireworks is a fitting tribute for Jorge, my dear friend for twenty nine years. This hurts! I just spoke with him on Wednesday! 55 is ridiculously too young! One year ago we lost another beloved local radio legend, Suds Coleman. At least Suds made it to 74. When Suds passed, Jorge quickly put together a tribute show. No possible way I would have imagined having to do that for Jorge a year later. He was a huge part of my life. We had the best things good friends can have and that is, mutual trust and admiration. We believed in each other.

Fresh out of the Navy I went into radio and then left to do other things, because I was so astoundingly stupid. Neil Rogers was taking the town by storm in the eighties. In 1986, I was inspired to send him material and fortunately, he liked it. This continued from WINZ, Zeta4 to WIOD and that's when I first met Jorge in 1991.

Till that time, I didn't think there was much value in being a silly person. Jorge convinced me otherwise. Jorge had the innate ability to look right into someones heart, and selflessly give them the confidence to build upon their individual qualities. He encouraged me to capitalize on being a silly person and take confidence in my work. It was Jorge who campaigned to put me on the payroll and I eventually became part of Neil's team. That exposure led to national syndication of my work and a gainful career for long as radio itself lasted. I owe much of that success to Jorge. I'm glad to have made that clear to him many times.

This was a man who in a short period of time, went from repossessing cars to producing South Florida's talk radio powerhouse, The Neil Rogers Show on 610 WIOD. A show so good, (in the pre-stream days) Howard Stern had recordings of the show sent to New York. Jorge cherished being part of the greatest talk radio line-up of all time, Neil Rogers, Rick and Suds, Phil Hendrie, Randi Rhodes, and an award winning radio news team.

Jorge really rose to the occasion when Neil asked him to sub-host while he went on his vacation for several months. A scary proposition. The biggest show on the air, in a line-up so popular that people were turning their TV's off to listen. Neil's rating numbers were consistent double digits, so those were big oily sandals to fill. Where others have tried with disastrous results, Jorge stepped up to the plate and managed to maintain a healthy 8 share in the number eleven market. As Neil held court, Jorge developed his own. His show evolved into what he called "Jorge's Church of Bacchus" where he would discuss the best night spots and current films, then regale the audience with his vast theological wisdom – and he still got an 8.

So many sweet memories to share. Hanging with Jorge and Suds Coleman at the Billabong laughing till we got cramps. Then at 560 WQAM it was "Tuesday Lunch with Jorge". This started before Neil moved to Canada and it was Tuesdays when my bits dropped, then Neil would either commend or yell at me. After the show, Jorge would vigorously clean the studio and we would go to the corner diner (the one where Maurice Gibb ate the wrong hamburger). We would exchange ideas or sometimes, studio visitors would ask to join us. I'll never forget Jorge and I having lunch with Lynn Samuels and Matt Drudge. (That still feels weird.) Another time when Jorge and former weekend host Steve Patterson were smoking so much weed in my brand new Acura, I couldn't see. So I opened the window and smoke billowed out like the Cheech and Chong ice cream truck as we weaved down the road.

Jorge knew about (me) Britany for years before the rest of the world knew. Neil was under constant pressure from management and wasn't crazy about trans people to begin with, so we decided it would be too much of a distraction to the show and audience for him to deal with. We mutually agreed to stay silent and no one at the station knew until Neil's funeral. Jorge was surprisingly supportive, that is to say until SoFloRadio. Then he (understandably) got nervous about it for promotional reasons. A bit of a speed bump, but we got beyond it and Boca Brian officially became Boca Britany on the air.

The salad days of our radio careers ended harshly in June 2009. Listeners and friends know what happened, but what Jorge and I didn't know at the time, was that Neil's health was failing. It was then we started SoFloRadio. Jorge did most the work, I just helped along with Neil's former webmaster, the late Eric Harold. In building that studio, Jorge rigged a crude "Mix-Minus" in the studio for phone interfacing (to prevent feedback) which was genius 11 years ago. Today, it's built into new mixers.

Petrified of it sounding like and amateur podcast, in a month we had a polished, major market sounding webcast network with a full weekday schedule of live programming. It was entertainment, talk and information, but primarily entertainment based format. Ostensibly an attempt to recapture what radio has since abandoned. Broadcasters Mitch Phillips, Joe Castello, Brian London and eventually, Nicole Sandler dedicated their time.

Not fully conceptualizing our goal at the time, what we started back then could have become what Tune-in, Patreon and other online networks are today. With one difference, we wanted a portion of our programming to continue serving the local public commons. Jorge even provided an outlet for local musicians.

Although we had some help getting it off the ground, there wasn't nearly enough investment (or sales ability) to sustain it. With no money coming in, eventually everyone left. I stayed long as possible, but returned for anniversary and memorial shows. Jorge kept forging ahead brokering time and it's still there, for the time being.

When there were careers to be had in broadcasting, Jorge used his position as the best producer in South Florida to help and support others. When the industry evaporated, Jorge continued to do his best to help and support others. He had an admirable work ethic. He worked hard and had fun to match. He raised two wonderful daughters and will always be loved and admired by his family, his friends, his colleagues and throughout the entire community. We love you Jorge and dammit we will miss you!

Jorge would often point to the map of western Montana and say it resembled his profile. It kinda does. So let that be his first monument. As for memorials, there definitely will be, but it's too soon to know yet. So stay tuned for further updates.