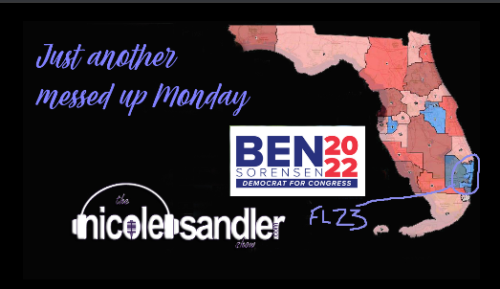 Download here or click below to play
Yes, it's a messed up Monday with a silver lining! I awoke this morning to be greeted by some YouTube videos of Joni Mitchell performing at the Newport Folk Festival yesterday — her first live performance in about 20 years and her first time on that stage since 1969!
Thank goodness, cuz the rest of the day ain't so great…
Like finding out I fractured two ribs on Friday and that's what this pain in my side has been. So there's that…
Today, we'll hear from the fifth of six Democratic candidates vying to replace my outgoing Congressman representing Florida's 23rd district. (The sixth, the perceived front runner, Jared Moskowitz and his people have completely ignored all of my attempts to contact them. I guess they don't want or need my vote.)  Today I speak with Ben Sorensen, currently vice-mayor of Ft. Lauderdale, and a great choice for South Florida.
There's a lot of news to share, and some videos to play that I didn't have time for last week.
Now for the fun part. I did end the show with Joni Mitchell's beautiful rendition of "Summertime"- and as promised, a few more of the songs she performed yesterday at the Newport Folk Festival…
And here's today's show, not that you want to watch this after all of those….