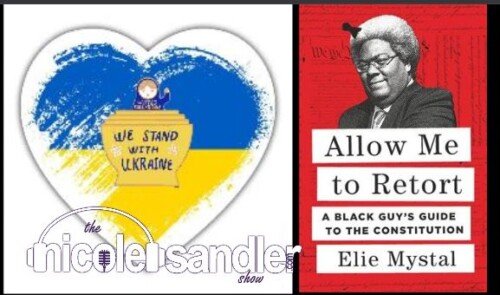 Download here or click below to play, (or watch the video at the bottom of the page!)
I've been horribly disillusioned by the corporate media, especially the outlets that purport to serve a progressive audience. But I do have to thank MSNBC for introducing me to the always brilliant Elie Mystal.
I've been honored by his presence on this program a few times, and am thrilled to welcome him back today as his new book, Allow Me To Retort: A Black Guy's Guide to the Constitution was just released. Elie's premise that the constitution is "trash" raised some eyebrows on The View last week.He explains it perfectly well in the book. And it's not like he was trying to keep that a secret. It's right there in the opening line of the book!
Of course, we'll begin with the latest news. And I'll share this weekend's updates from our friend in Ukraine, Tatiana from the Friends Forever Hostel in Kyiv (though she's no longer there…). We have been in contact, and I'll bring you up to speed.
At the end of the show, I shared the editorial from the South Florida Sun Sentinel about the cretin masquerading as governor of this state. I promised I'd share it:
As author Bob Woodward tells the story, the new virus in China didn't yet have a name in early 2020, but Donald Trump's national security advisor, Robert O'Brien, warned him of "the biggest national security threat you face in your presidency." The warning proved accurate.
Nearly 1 million U.S. deaths later, COVID-19 may be waning, but the question of the next viral pandemic is not if but when. In barely a century, there have been the misnamed Spanish flu, HIV/AIDS and now COVID-19.
When the next pandemic strikes, America will need a president who acts wisely, based on science and not politics. That president should prefer to err on the side of safety rather than popularity.
Gov. Ron DeSantis would not be that president.
Although he doesn't admit it, DeSantis' craving for the White House is the most transparent ambition since Julius Caesar theatrically declined a crown, and it's already dreadfully clear what kind of public health president he would be.
Consider what happened Monday. DeSantis' surgeon general, Joseph Ladapo, announced that the Department of Health will not recommend healthy children get COVID-19 vaccinations and will in fact recommend against it. That was another irresponsible act in DeSantis' full-bore campaign to undercut common-sense health measures as invasions of "freedom."
As governor, DeSantis has dealt with the coronavirus with less responsibility than Trump did at the White House. But Florida's fringe surgeon general would likely become the nation's fringe surgeon general if President DeSantis could promote him.
Doubling down on a reckless, radical agenda, Ladapo now says that healthy Florida children age 5 to 11 should not continue to get a CDC-approved vaccines, making Florida the first state to actively discourage kids from being protected.
Children are far less likely than adults to die from COVID-19, but they do die from it — 42 in Florida so far, according to the Department of Health. Even if mildly ill or asymptomatic, they could infect vulnerable grandparents. But thanks to DeSantis and the unquestioning Florida Legislature, Florida schools cannot require masks, even in high-risk counties.
Red meat for the masses
The zealotry of DeSantis and Ladapo for the "freedom" to go maskless — and now unvaccinated — in the face of a still-lethal virus is red meat for the governor's right-wing followers, and it's rocket fuel for his lucrative national fundraising.
He exposed the sheer hypocrisy during a notorious photo op where he bullied a group of Tampa high school students into removing masks, scoffing at "COVID theater." Is it a matter of personal choice and parental control, as he keeps saying, or not?
Even as the Centers for Disease Control was relaxing its face-mask protocols to account for improving local conditions, DeSantis and Ladapo urged Floridians to "buck the CDC." They also appeared to encourage physicians to prescribe remedies not approved by the FDA for antivirus therapy and to file complaints against hospitals that forbid questionable therapies.
Just the other day, Ladapo denounced as "a lie" that masks have saved any lives from COVID-19. That is as great a falsehood as Trump's claim to have won the election. He labeled as "zombies" doctors who disagree with him.
DeSantis previewed a dystopian future as he took his campaign for the White House to the 2022 Conservative Political Action Conference in Orlando.
Arriving with a rock star's welcome, he continued demonizing Dr. Anthony Fauci, president Biden's chief medical adviser, for his tireless efforts to protect Americans from COVID-19. He denounced Australia and Canada as threats to freedom for their efforts to control the pandemic. He was too busy demonizing medical science that day to say a word about Russia's diabolical invasion of Ukraine.
A divider, not a uniter
DeSantis is running like Trump did in 2016, as a divider rather than a uniter, writing off moderate and liberal voters whom he has no more intention of representing in Washington than he has in Tallahassee.
With COVID-19, DeSantis dragged Florida deeper into harm's way. He signed legislation to prohibit private employers, schools and other public agencies from imposing vaccine or mask mandates. He abdicated his duty as a leader by refusing to say whether he'd had a booster shot. He encouraged lax practices by nursing homes and other health care providers by signing and extending a law generally barring COVID-related lawsuits. He continues to disparage best practices.
In all those ways, DeSantis was more irresponsible than Trump. The former president failed in his duty by minimizing the virus in his public statements and by undercutting his government's own safety pronouncements with White House and campaign events that did not enforce social distancing or face-masking. But his Operation Warp Speed did make available a vaccine in record time, and he did not actively oppose federal, state or local prevention efforts like DeSantis has.
He's a ruthless politician who will knowingly sacrifice anything, especially truth, to his incandescent personal ambition.
Simply put, if you liked having Trump in the White House, you'll love DeSantis.