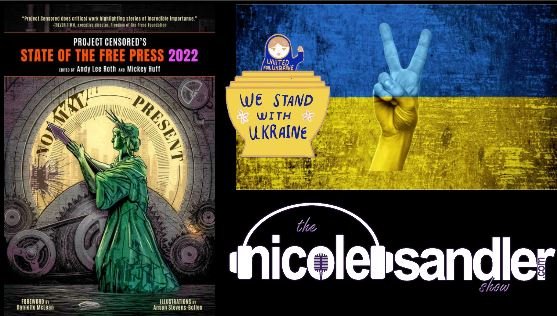 Download here or click below to play, (or watch the video at the bottom of the page!)
There's so much going on today that it's difficult to figure out what to cover and what to pass on during a one-hour long show. We have to make editorial decisions when deciding what news to report on. But I'm only dealing with my one hour a day.
In the grand scheme of things, do you wonder what stories are neglected by the media? Especially the corporate media who are, unfortunately, controlled by the ratings/circulation/click/money metric?
Well, wonder no longer. That's what Project Censored is all about. Today, I'm joined by Project Censored's associate director Andy Lee Roth, who'll tell us about the newly released STATE OF THE FREE PRESS 2022 The Top Censored Stories and Media Analysis of 2020–21. You'll probably be surprised by what you learn, but maybe not.
We'll begin the show with a few words about last night's State of the Union address, and the latest from Ukraine. And whatever else seems important when I hit the air at 5pm ET. Talk to you then…
*Post show notes: I found these videos from Ukraine's UATV — an English-language Ukrainian news channel, which is funded in whole or part by the Ukrainian government. In addition to a lot of news stories, there are a few of these videos of Russian soldiers who were captured in Ukraine. This video shows one young man speaking by phone to his mother in Russia, explaining to her that he was lied to about what he was being sent to do, and that he was the aggressor, that he was captured, and is being treated better by the Ukrainians holding him prisoner than by his Russian commanders.