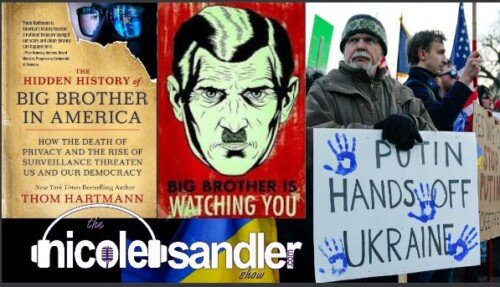 Download here or click below to play, (or watch the video at the bottom of the page!)
The incredibly prolific Thom Hartmann has just released another book in his Hidden History series. This one is The Hidden History of Big Brother in America, and it's much worse and more widespread than you imagined. Thom joins us at the bottom of the hour.
Before we get to Thom, news from Ukraine. I'll bring you up to speed with our friend Tatiana, who has now moved to another apartment in a city closer to the border. But unfortunately, that region is now also being attached by Putin's soldiers.
Tatiana actually sent me a few messages while I was on the air, including a video sent to her from the people staying at the Friends Forever Hostel in Kyiv. It was dark with the sound of nonstop explosions. She told me they're going to go to Poland, something I was very glad to hear. More on that tomorrow.
And Florida's legislative session comes to a close today. We'll review some of the damage done…
We had terrible streaming video issues today. Perfect timing, as the fiber optic internet is being installed tomorrow morning and I can finally dump AT&T.
Since you couldn't see it in the stream, here's the brand new Randy Rainbow video…
And here's today's show.. I hope it recorded better than it streamed!