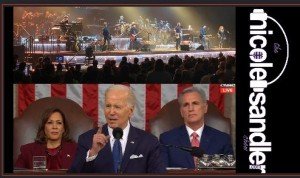 Click the player above to play, right click the download button below to download the episode, scroll down for the video version


My Tuesday night plans – watching Joe Biden's second State of the Union Address – were upended when my sister came through with a coveted pair of tickets to see Bruce Springsteen at the 7000-seat Hard Rock Live, here in Hollywood FL. I'd been upset about missing my first Bruce tour since 1980, but that's what I'd resigned myself to since Ticketmaster instituted their "dynamic pricing," which escalated ticket prices into the stratosphere, especially at the HRL, the smallest venue on the tour.
But my sister knows someone who knows someone and, at the last minute, came up with a pair. So it was off to the Church of the Springsteen for me last night.
And yes, it was every bit as epic as I expected (I'll share a brief segment on it today)…..
So, I missed watching the State of the Union address. Not that I was disappointed. They're usually not very good speeches. But an old friend of the show did watch, and was completely surprised by how good he said it was. So Dave Johnson joins us today to help inform us about what was so good about it…
https://youtube.com/live/jd-xDOlKylE