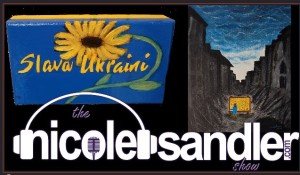 Click the player above to play, right click the download button below to download the episode, scroll down for the video version


It was one year ago today that Vladimir Putin's Russia invaded Ukraine and began the bombing. It's been a horrific year for the people of Ukraine, who did nothing to provoke that monster. But a year later, they're still taking incoming fire, living without reliable power and under the constant warnings of sirens. Yet the people are strong and aren't willing to give an inch.
Today, we'll look back on a year ago, and our calls to people in Ukraine. I'll share one with a hotel clerk in Kyiv who didn't believe that forces were amassing on the border getting ready to attack. And I'll give you an update on our friend Tanya who owns the Friends Forever Hostel in Kyiv.
And we'll check in with Philip Ittner. He's an American journalist who's been in Ukraine for the past year, and says he'll be there until the war ends!
I opened the show with this beautiful tribute to the people of Ukraine as performed by the Marsh Family.