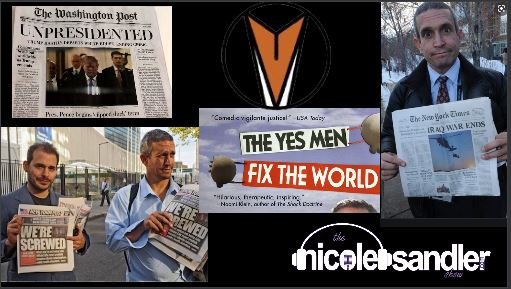 Download here or click below to play, (or watch the video at the bottom of the page!)
I think I let out an audible gasp when I opened an email the other day from The Yes Men!  I'll admit that I hadn't realized they hadn't been active lately, at least not publicly. But I do still think about them often. Well, whether they were gone or not is beside the point because…… they're back!
And now they want to help you change the world in a funny, subversive and always humorous way… Although The Yes Men launched the Yes Lab some years ago and do travel the world helping creative activists make big points, they're taking that to the next level in announced The Meddleverse™. Andy Bichlebaum, a man often known by any of a number of aliases, joins us today to tell us what they're up to now. And I couldn't be more thrilled!