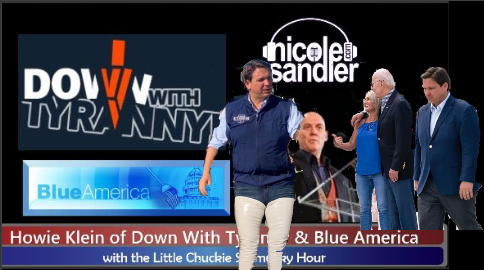 Download here or click below to play, (or watch the video at the bottom of the page!)
It's Thursday, the day of the week that Howie Klein joins in. Howie was president of Reprise Records when I first met him, probably 25-30 years ago in LA. So our discussions often veer off into the music world. Just some context there.
Since leaving Reprise and Warner Bros, Howie's been ensconced in progressive politics. He blogs at DownWithTyranny.com and runs the Blue America PAC along with Heather Digby Parton and John Amato. His latest piece up at DWT is "Good for American: More Ro Khanna, Less Herschel Walker." That sounds like a good place to start today's discussion…
Howie mentioned an op-ed written by Ro Khanna for the Boston Globe. Read "America needs a New Economic Patriotism plan" here.
We had some breaking news shortly before showtime… President Biden finally did it!
Let's Go Brandon!!!! https://t.co/RnADdjV32G

— Nicole Sandler (@nicolesandler) October 6, 2022
I promised I'd share the playlist that I couldn't play on the air.. Enjoy!