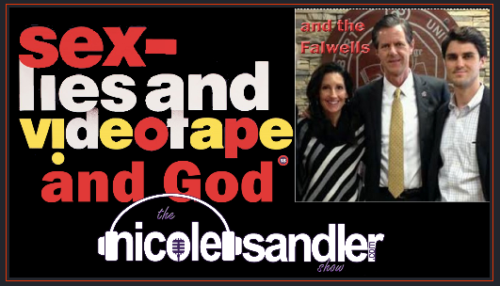 Download here or click below to play, (or watch the video at the bottom of the page!)
We'll take a hiatus from the election stuff today (and after watching two of the three debates last night, I need a break from that crap), we'll somehow go even lower today.
We all remember when the story broke, two years ago, about the Fountainbleu Hotel Pool Boy turned sex partner of Becki Falwell, who liked to perform with her new, young partners while her husband, Jerry Falwell Jr, watched and recorded it on video. (Pause for the collective eeeew)
Well, two years later, the *pool boy* is ready to tell the story from his perspective. And tell he does.
There's a documentary God Forbid: The Sex Scandal that Brought Down a Dynasty, premiering on Hulu on Nov 1 (Tuesday), and in a new book- just out yesterday– Off the Deep End: Jerry & Becki Falwell and the Collapse of an Evangelical Dynasty. It's written by Giancarlo Granda (the former pool boy) with journalist and NY Times Bestselling Author Mark Ebner.
Mark Ebner is my guest today, and boy does he have a lot to say!
But first, I'll fact check the Magat Republicans who keep lying about Democrats "wanting" abortion until birth. It's just fucking ridiculous, and I don't understand why they're not put in their place every time they spew out this outrageous lie, so I guess I'll have to do it for them.
I promised I'd share the best article I found on the subject… it's from the Washington Post, so behind a paywall. But you need to read it, so here it is!
The GOP claim that Democrats support abortion 'up to moment of birth'

The Fact Checker

September 22, 2022 at 3:00 a.m. EDT

 https://youtu.be/Cyg3KkPGz6w