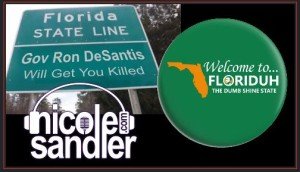 Click the player above to play, right click the download button below to download the episode, scroll down for the video version


The fascist man occupying the Governor's mansion in Tallahassee FL continues his assault on reason and his attempts to turn the state into a theocracy ruled by an authoritarian. Earlier this week, we learned about his move to turn Florida's truly liberal arts college, The New College, from its mission of inclusion, diversity and a place that's become a haven for LGBTQ students to a "conservative" leaning institution modeled on Hillsdale College– a private Christian liberal arts college in Michigan.
And just yesterday, he held a rally-style event with his closest *medical* advisors, spreading misinformation about COVID-19 and the vaccines with his shady anti-vaxxer surgeon general, and another so-called doctor who told the crowd to forget about the vaccine and instead, pray to Jesus.
I kid you not.
Sadly, Florida does not have a capable, organized Democratic Party to counter such insanity. Luckily there is a group of dedicated progressives working to gain influence over the negligent and embarrassing group of bureaucrats who hold the positions of power in the FDP.
Today, I'm joined by Carolina Ampudia, past president of the Democratic Progressive Caucus of Florida who'll explain what's happening with today's Florida Democratic Party