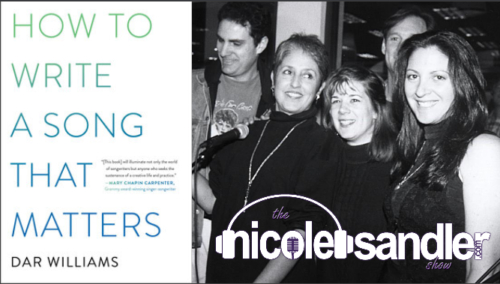 Download here or click below to play, (or watch the video at the bottom of the page!)
After a hectic week with non-stop breaking news, I think we all deserve a break from the politics. So after a brief recap of the latest news, we'll officially begin the weekend with something special.
A singer/songwriter who I truly admire has a new book out, How to Write a Song that Matters.
I first met Dar Williams some 27 years ago. Her first album, The Honesty Room includes a song that listeners of the LA station where I worked truly connected with called "When I Was a Boy." We started playing it on KSCA fm 101.9 …and the rest, as they say, is history. I've remained a fan through the years, but never had the opportunity to re-connect with Dar, until now.
Her brand new book is out, called How to Write a Song that Matters. She knows how to do that, and now shares that skill with the public in songwriting retreats, workshops and now, with this book. We have a lot of catching up to do, and I'm excited that listeners are along for the ride today.
When the interview we recorded earlier this week ends, perhaps I could be persuaded to run into overtime and share the show we talk about during the interview. It was a morning show remote broadcast from Starbucks in Encino, CA, where she and Joan Baez (who were touring together) graced us with an amazing performance… Happy Music Friday!