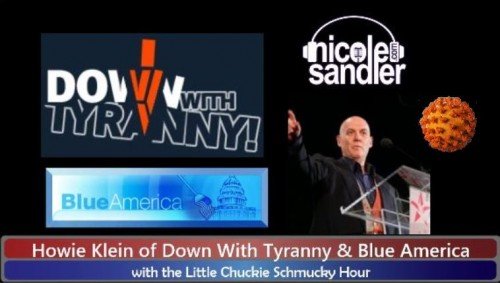 Howie Klein of Down with Tyranny and the Blue America PAC is our regular Thursday guest. The topics we discuss are often at the mercy of the news cycle, as is the case today. We're all talking about the revelations from Bob Woodward's forthcoming book, Fear and Donald Trump's admission that he knew the dangers of the coronavirus pandemic but chose to downplay the severity to the American people. What other shoes could possibly drop?
Of course, he tried to deflect. First he needed to move the attention away from Michael Cohen's tell-all book. But all eyes turned to his feelings about the "suckers" and "losers" in the military, thanks to Jeffrey Goldberg at The Atlantic.   Frankly, I thought that one would have legs.
The only thing that could knock Trump's disdain for American military personnel would be perhaps a recording of Trump himself from early February admitting that he knew just how deadly Covid 19 was, but was intentionally downplaying it to the public!
The only thing I dread more than the next 7 1/2 weeks is what follows and the period between November 4 and January 21.
Today's funny came from Blair Erskine
I am Tom Cotton's wife and I have some things to say!! pic.twitter.com/vcbXzh7197

— blaire erskine (@blaireerskine) September 9, 2020
And, today's show on video…