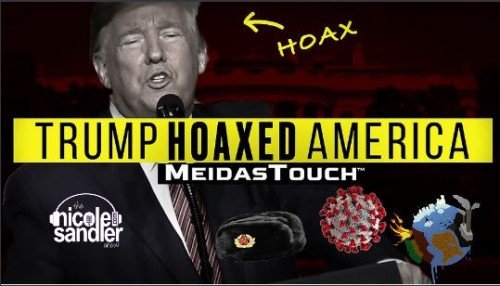 The year 2020 is, among other things, the year of the political video!
I've been having fun with the "funnies" I play at the top of the show each day. People quarantining around the world with too much time on their hands are showing thier creative chops with homemade humor, most in the form of parody videos.  (Today's gem of a find is embedded at the bottom of the post.)
And then there are the political videos. This year has given us a treasure trove of brilliant productions. These aren't your parents' political television commercials. This is new territory. Some groups are pouring lots of money into these viral sensations. The Lincoln Project is turning out some great stuff and they're quite prolific! But I still worry about the people behind the curtain because, as we know, they're "Never Trumper" Republicans. While I appreciate the assist, I can't quite trust them completely.
Another group's been churning out video after viral video that are hard-hitting, often funny, entertaining and effective. I finally checked out MeidasTouch.com to find out about the team behind this stuff and was delighted to learn about the Meiselas brothers.
Ben Meiselas, Brett Meiselas and Jordan Meiselas are MeidasTouch, and they're my guests today.
The audio podcast is posted above, as usual. But since we played a bunch of the MeidasTouch videos, I thought you'd like to see the actual video of today's show. (Although I'm still suspended from live streaming on YouTube, I'm still able to post videos after the fact…)
And finally, as promised, here's today's funny! It's from Oscar Nowak…