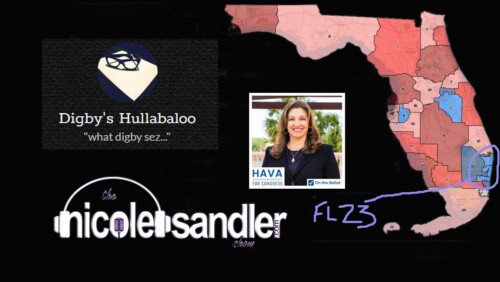 Download here or click below to play, (or watch the video at the bottom of the page!)
I'm still living in Florida, now in the 23rd Congressional District after the so-called governor's redistricting maps went into effect. My current congressman Ted Deutch is not running for re-election, so it's an open seat.
There are six Democrats running for the nomination in the Aug 23 primary. All accepted my invitation to join me on the air (except for the front runner, whose campaign has ignored my numerous attempts to contact them).
Today, we meet the only woman in the race, Hava Holzhauer. I butchered her name on the air, and couldn't get the chyron to behave on the video stream, so please do check out her website at havaholzhauer.com!
Then, we welcome Digby back to the show. There are so many things we could discuss, from the media's role in Joe Biden's anemic polling numbers to the latest development in the Senate where Joe Manchin and Susan Collins teamed up to introduce a bipartisan bill clarifying that the VP does not have the power to overturn the results of a presidential elections, and to make it harder for lawmakers to object to the results of the Electoral College vote. . (Of course, they should just get rid of the Electoral College, but this is Manchin and Collins we're talking about…)
And I just had to read the editorial from the South Florida Sun Sentinel, warning the rest of the nation about Ron DeSantis. Here it is in case you need to read it again or share it!