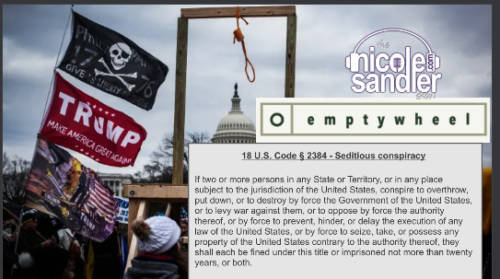 Download here or click below to play, (or watch the video at the bottom of the page!)
When the news broke last week that a DC jury had acquitted former Clinton lawyer Michael Sussman on charges of lying to the FBI during the 2016 election cycle, I thought of Marcy Wheeler, wondering how she'd cover it. This case was brought by U.S. Attorney John Durham, who was appointed by then AG Bill Barr to open a Special Counsel investigation into the origins of the FBI's probe into Russian interference in that election. That Sussman was acquitted after just six hours of jury deliberation dealt a blog to the former guy's narrative.
But I don't listen to their spin. I go the one of the best journalists on this beat– Marcy Wheeler at emptywheel.net.
The acquittal came last Wednesday, one week ago tomorrow, but my show was already booked, with Digby! I thought I might be able to have both Digby and Marcy Wheeler on the same show, but realized that wouldn't be fair to any of us. So I used Marcy's interview on the Bradcast as I guest hosted that night. But it hasn't aired on my show yet. Until today.
Nothing has changed except that yesterday, Enrique Tarrio and five more members of the Proud Boys already charged with conspiracy and obstruction of an official proceeding were indicted on an additional charge of Seditious Conspiracy! And Peter Navarro was indicted on two counts of contempt of Congress. If you listen closely, you can hear the sad trombone playing as he complains about how he was treated…
The hearings begin in two days… popcorn ready for popping.