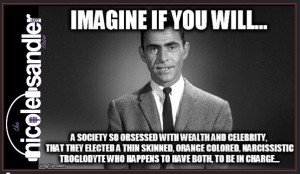 Click the player above to play, right click the download button below to download the episode, scroll down for the video version


It's Wednesday. The former guy was arraigned yesterday and pleaded NOT guilty to all 34 felony counts of falsifying business records. I will not play any audio of the orange one's awful-on-so-many-levels- speech from Mar A Lago last night, but I will debunk some of the bullshit he spewed.
And yes, we have the transcripts of the hearings too…
Plus… Students across Florida are walking out of school today to protest the fact that kids are being killed in their schools and our elected officials are doing nothing to stop it. In fact, in many places- – including Florida — they're making life more dangerous. I'll speak with Alexis Dorman today. She's a sophomore at Florida State University in Tallahassee, a volunteer with Students Demand Action, and helped lead today's walkout there.