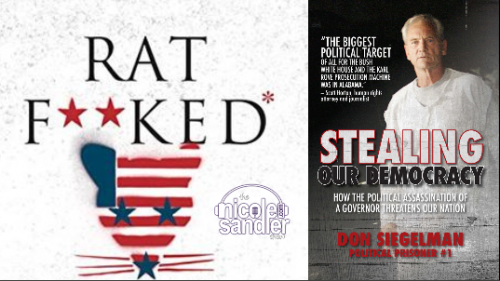 Download here or click below to play, (or watch the video at the bottom of the page!)
Today, Rudy Giuliani's NYC apartment and office building were raided by the feds who seized a few electronic device. Trump employed the "ratfucking talents" of characters from Rudy Giuliani to Roger Stone. This is nothing new.
Back in the late 90s early 2000s, Karl Rove was the ratfucker in chief. Today, one of Rove's biggest victims, former AL Governor Don Siegelman returns to the show. His book, Stealing Our Democracy, is now out as an audiobook, read by Gov. Siegelman himself.
We obviously spoke about his story, but also got his thoughts on all that's happening now with our very broken criminal justice system.
Tonight, President Biden delivers his first address to a joint session of Congress, though there will only be about 200 people in the room. Covid.  I'll have all the highlights for you tomorrow..
It's showtime! @DonSiegelman returns to the show today to talk about the GOP dirty tricks that made him one of our first political prisoners and should have prepared us for the former administration's tricks. Come watch/listen now (5ET/2PT). Just click: https://t.co/d0fxaRH9yQ

— Nicole Sandler (@nicolesandler) April 28, 2021