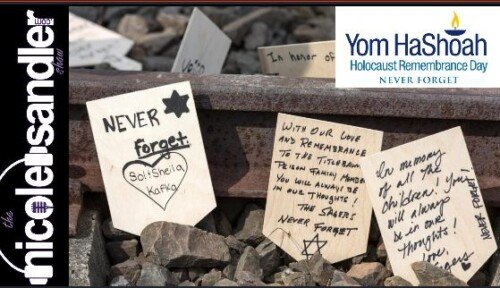 Download here or click below to play, (or watch the video at the bottom of the page!)
I am a non-observant Jew. I'm actually an atheist who was raised in a secular Jewish home. My parents weren't religious and, with three daughters and no sons, we had no Bar Mitzvahs. Plus we were growing up at a time when Jewish girls weren't necessarily expected to be a Bat Mitzvah. So were weren't.
But we did grow up knowing that we were of Jewish heritage. And although I don't know the stories of my ancestors, I do know that my father's family came here from Russia and Romania, and my mother's family came from Russia and Austria. They all left their homelands because of the Nazis and the Holocaust.
We grew up knowing about the atrocities, with the directive to never forget so nothing like this could happen ever again. The annual Holocaust Remembrance Day was established back in the early 60s, yet I don't remember it ever being as prominent as it is this year before.
Perhaps that's due to the rising incidents of antisemitism around the world, the rise of Neo Nazi groups here and abroad, the atrocities we're seeing in Ukraine at the hands of the Russian soldiers, the rise of authoritarian politicians here (Trump, et al) … or perhaps it's because the last remaining survivors of the Holocaust are aging rapidly, and their descendants want to insure the stories survive.
Today, I'll feature two films that debut on PBS stations this week. First up, I'll talk with Steve Pina, producer of The Holocaust: A Turning Point . If you're in Southern California, you can see it tonight (April 27) at 11pm PDT or tomorrow at 7pm PDT on KLCS. Anywhere else, you can see it posted on YouTube — just click the linked title above.
Then, I'll talk with Michael Veitch. He's one of the songwriters who participated in a program that culminated in the film, We Remember: Songs of Survivors . The singer/songwriters visited with Holocaust Survivors in Hudson Valley, NY to create original songs based on their conversations. It premiered on PBS last night and will run on 450 stations between now and May 24. Check your local listings (or just click on the link above! It's posted there too).