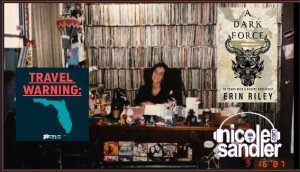 Click the player above to play, right click the download button below to download the episode, scroll down for the video version


My guest today is a new friend, though someone I've kind of known for over 30 years. Erin Riley and I led parallel lives for a while, both rising in the world of rock radio and loving life. Erin worked at KROQ in LA when I was at WPLJ in NY. As I traded the east coast for the west coast and moved to LA, Erin moved back east to become music director at WMMR in Philadelphia.
We finally met some 35 years after we were both at the same event with Yoko Ono celebrating the release of the documentary "Imagine" about John Lennon back in 1988… It's a small world.
Though I'm sure we'll wind up talking music at some point, that's not the subject of today's interview. Instead, we'll talk about how Erin's life took a sharp turn from the sex and drugs and rock and roll life to the point where she wrote a book — not a memoir of those music filled years, but A DARK FORCE: 20 YEARS WITH A COVERT NARCISSIST.
But we'll begin, as usual, with the latest and yes, shocker, there is breaking news. An arrest was made in the case of the huge Pentagon classified documents leak and, go figure, it was a 21 year old gamer in a chatroom. South Florida has been hit with torrential rains and biblical flooding, resulting in the closure of Fort Lauderdale Airport yesterday– and all day today! Jury selection began today in Delaware for the Dominion Voting Systems vs Fox (not) News. The trial is expected to begin on Monday. And Trump is back in NYC for another deposition before NY AG Letitia James…. and that will bring us to the topic of a narcissistic sociopath…