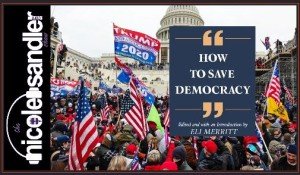 Click the player above to play, right click the download button below to download the episode, scroll down for the video version


Eli Merritt is a political historian, and an MD and psychiatrist. At Vanderbilt University, he's served as a professor and visiting scholar in three departments: History, Psychiatry & Behavioral Sciences and the Center for Biomedical Ethics and Society. He's written and/or edited a few books, including the newly released HOW TO SAVE DEMOCRACY: INSPIRATION AND ADVICE FROM 95 WORLD LEADERS. He's our guest today.
You can get his substack newsletter at elimerritt.substack.com.
Given his wealth of areas of expertise, I have lots of questions for him. Perhaps we will get the answer to the question of how to save democracy! And we'll share some listener mail too.. it's been a while!