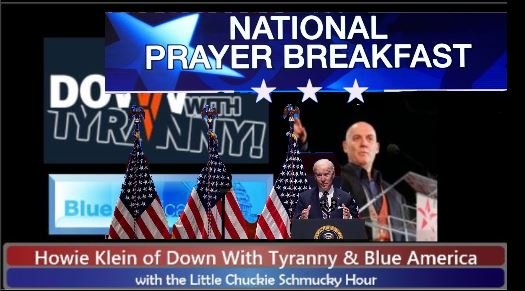 Download here or click below to play, (or watch the video at the bottom of the page!)
Today is Thursday, so Howie Klein (Down with Tyranny, Blue America PAC) joins in at the bottom of the hour. Lots to talk with him about including the smear campaign being waged against Rep. Marie Newman.
And, Howie introduced us to a new timely song from Steven Page, former lead singer of Barenaked Ladies. It's called "Choose Young" – it's posted here along with the great lyrics.
But we'll begin today's show by noting that despite separation of church and state was clearly the goal of the founders, today– 2022– there's still something call the National Prayer Breakfast every year, and it was today. And this time, it was Joe Biden who I found most offensive… in an event that offends me at every turn. TYT Investigations managing editor Jonathan Larsen has been looking in to The Family and has some interesting news to share at the top of the show. His twitter thread today on the prayer breakfast is definitely worth reading.
Sen Chris Coons says today's National Prayer Breakfast is a "reset"…

…but only spoke to Religion News and CBN about it…

…and only spoke publicly about it one day before the event.https://t.co/9eQTLgmdCa

— Jonathan Larsen (@jtlarsen) February 3, 2022
There were a couple of items today in two different radio trade publication about the big KSCA 25th anniversary reunion show tomorrow… One in All Access
Reunion Show To Celebrate 25 Year Anniversary Of KSCA/Los Angeles' Sign-Off

by Lynn McDonnell

February 3, 2022 at 5:14 AM (PT)

KSCA Staff On The Final Day

25 years ago on FEBRUARY 5th, GENE AUTRY's GOLDEN WEST BROADCASTERS, which had sold the station to HEFTEL, pulled the plug on the Triple A format at KSCA/LOS ANGELES as the station flipped to Regional Mexican, an event commemorated in the LOS ANGELES TIMES as "The Day The Music Died," referencing the BUDDY HOLLY-RITCHIE VALENS-BIG BOPPER plane crash that occurred on FEBRUARY 3rd, 1959. The staff got to say farewell on the air that day, with coverage from the TIMES, NEW YORK TIMES, and several other news outlets, and a live remote on crosstown KTLA-TV's "KTLA MORNING NEWS."

Former MD/morning/midday host NICOLE SANDLER is hosting an FM 101.9 reunion show this FRIDAY (2/4). SANDLER, now based in SOUTH FLORIDA and hosting a talk show online, said, "In honor of National DJ Day on JANUARY 20, I posted this photo of the KSCA airstaff in the studio on FACEBOOK and the response was pretty overwhelming, with so many people expressing their love for a little radio station that went off the air 25 years ago this week.

"I still hear from listeners on an almost daily basis. So, when I realized the 25th anniversary of that final night was this Friday, I figured we should do something to commemorate the occasion. It really was the high point of a pretty amazing career! Already confirmed to join me are DENNIS CONSTANTINE, MIMI CHEN, TERRY GLADSTONE, artists DAN NAVARRO and ANGELA McCLUSKEY."

Tune in live here at 5p (ET)/2p (PT) FRIDAY, FEBRUARY 4th.
And the other in a publication called RAMP (Radio and Music Pros)
Celebrating KSCA This Friday

My, how time flies… this Friday, Friday, Feb. 4, 2022 marks the 25th anniversary of the day that fan favorite Triple A KSCA (FM 101.9)/Los Angeles signed off, as the sale from Gene Autry's Golden West Broadcasters to Heftel was finalized, and the station flipped to Regional Mexican.
The news of KSCA's sale and flip — after less than three years in the format — was considered significant enough to be covered not only in Billboard and The Orange Country Register, but also in the New York Times and the Los Angeles Times, which described the station's demise as "The Day The Music Died." The local KTLA Morning News even came out and did a remote hit from the KSCA studios on that final day.
Nicole Sandler was KSCA's Music Director/morning & midday personality, Music Hall booker and webmaster. Now living in South Florida, and doing a daily live show based at nicolesandler.com, heard live on the Progressive Voices Network and other online stations, Nicole will be hosting a reunion/tribute show "to the little station that could," this Friday, Feb. 4, at 5pm ET/2pm PT. She will be speaking with some of her former colleagues, artists and listeners and sharing some classic airchecks, etc. Already confirmed to participate: Dennis Constantine, Mimi Chen, Anita Gevinson, Terry Gladstone, Rami Jaffee of Foo Fighters, Peter Himmelman, Dan Navarro, Angela McCluskey and more. Please set a reminder to tune in.
Nicole is also building a nice KSCA tribute page at nicolesandler.com/ksca. If you or someone you know has any classic KSCA airchecks — especially of the station's debut on July 2, 1994 — please contact Nicole at nicole at nicolesandler.com. Thank you!
Pictured, (l-r): Rich Guzman (production/overnights), Merilee Kelly (original afternoons), Chuck Moshontz (morning co-host with Sandler), Sandler, KSCA PD Mike Morrison, and Mimi Chen (nights, "Local Spotlight").