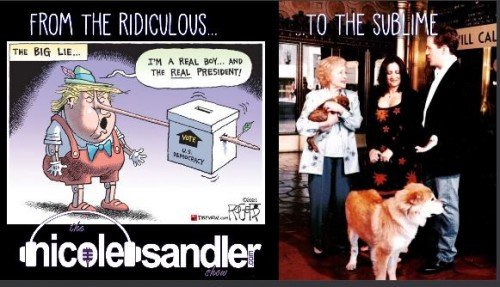 Download here or click below to play, (or watch the video at the bottom of the page!)
Today's show will deal with the worst and the best of America.
On the worst side, today's Republican Party, if there still is one. The Grand OId Party of the past has been replaced by the Gullible Old Propagandists who believe the bullshit spewed by and at them. Tomorrow marks the first anniversary of their attempted coup at the Capitol, an event about which they continue to lie, as they do with virtually every subject these days.
At the top of the show, I'll speak with Ron Filipkowski. I *met* him on Twitter, where his bio describes him as "Attorney, Marine, Triathlete, Historian. Former Federal Prosecutor & Repub; now Defense Attorney & Democrat. Tracking and Reporting on Right-Wing Extremism."
Intriguing, right? Well, he's down here in Florida and is working hard to evict Gov DeathSentence from the governor's mansion too.
In the second half of the show, we segue from the ridiculous to the truly sublime… Betty White.
An old friendly acquaintance of mine, Ray Richmond, wrote about television for the Los Angeles Daily News and other papers when I was in LA in the 90s. Over the past few months, I've seen his Facebook posts about the book he'd been working on, Betty White: 100 Remarkable Moments in an Extraordinary Life. It was officially released at the beginning of December. Betty White was sadly taken from us on Dec.31, 2021 – New Years Eve. But Ray Richmond joins us today to tell us a bit more about America's sweetheart, premiere grandmother and ambassador to animals everywhere.