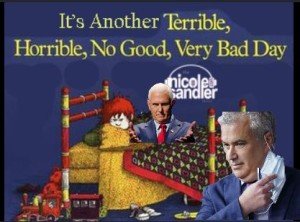 We can begin the list of reasons today is Terrible Tuesday with the numbers 7 and 11. Seven more people killed yesterday in two related shooting incidents in Half Moon Bay, California. The madness will never end. This is the new normal in the USA. And the death toll from Saturday's massacre in Monterey Park has grown by one, so the number of dead victims is now 11. (Can we leave now?)
Uh oh. Breaking news today… The Justice Dept has taken possession of a "small number" of documents with classified markings that former Vice President Mike Pence found in his Indiana residence. PENCE HAD CLASSIFIED DOCUMENTS AT HIS HOME TOO! WTF is wrong with these people??
It's a bad day for four Oath Keepers who were found guilty yesterday of seditious conspiracy for their roles in the 1-6 attack on the Capitol.
And it's truly terrible for the former head of FBI counterintelligence Charles McGonigal, who's been charged and indicted in federal court on charges that include money laundering and violating US sanctions.
There's more, including the fact that there's a new WH Chief of Staff incoming. Ron Klain is leaving. Biden chose Jeffrey Zients, who's getting reamed by critics not happy about the decidedly conservative choice, including Jeff Hauser at The Revolving Door Project, who'll join us today to explain what's so bad about Zients.