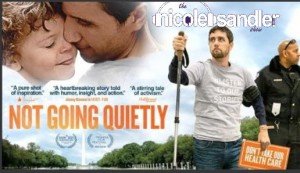 Download here or click below to play, (or watch the video at the bottom of the page!)
I lifted the title of the film we'll be discussing on today's show and used it as the title for this episode because it's a custom fit. The film Not Going Quietly tells Ady Barkan's story. If you were at all involved in the fight over the last 10+ years for Medicare For All, you likely know about Ady Barkan.
Always a progressive activist and organizer, Ady was diagnosed with ALS. He continued his activism and organizing work, pushing for M4A.
Director Nicholas Bruckman and Producer Amanda Roddy join me for the second half of today's show. The film premieres Monday 1/24 on PBS' "POV." You can also find other ways to listen at notgoingquietlyfilm.com.
But we'll begin today's show with a trip in the Wayback Machine… back 12 years to the day. January 21, 2010, the Supreme Court ruled on Citizens United v. FEC, a case concerning the relationship between campaign finance and free speech. As you should know, it was a democracy-killing opinion that threw open the doors of dark money in campaigns. Then, later that afternoon came the news that Air America Radio had ceased operations. I'll play for you the beginning of the show I did that night… my first post-Air America show, and the beginning of the program I'm still hosting today!