The GOP used to stand for "Grand Old Party"… these days, there are lots of other meanings better suited to today's Republican Party. My contribution is "Greedy Obstinate Pricks" – but others were just as creative. Enjoy…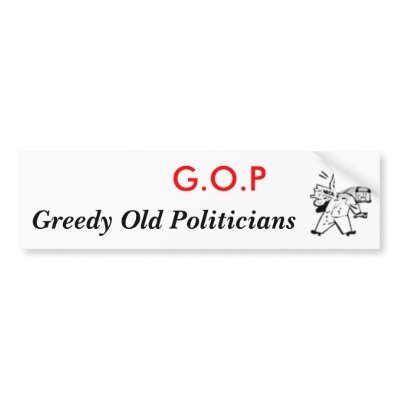 On today's show, I spoke with Absurdity Today's Julianna Forlano about the changes in New York City. I read a bit from this NY Daily News article about how the Working Families Party helped move everything to the left, and helped propel Bill De Blasio past Christine Quinn toward the Mayor's office.
For the first time since the office was introduced in 1993, the next public advocate won't chomp at the mayor's ankles. That's because de Blasio and Letitia James are both Democrats, and also Working Families Party stalwarts — de Blasio one of its founders and James the first Council member elected on its line alone.

"On the issues they care about, from minimum wage to tenant issues to development, they are absolutely definitional — they can set the debate at the city and the state level," de Blasio said of the WFP in 2010.

The party, founded in 1998 to take advantage of New York's fusion voting system, which allows candidates to run on multiple ballot lines, effectively represents organized labor. Despite its small membership, its used its ballot line and operational resources to push Democratic officials farther left, and elect new ones who are already there. That plan has paid off.

Even as Bloomberg ally and Council Speaker Christine Quinn used the power of her office to effectively force her left-leaning membership to stay in the center lane, the WFP played the long game, slowly building a progressive caucus (including James) to counter her. That paid off massively this year, as the group turned the tables on Quinn, forcing votes on paid sick days and new restraints on stop-and-frisk — two issues that, along with the term-limits extension the WFP played a leading role in fighting, derailed Quinn's mayoral bid.

Effectively, the WFP filled the pool in which de Blasio, James and others are now swimming. And the party, and its push to skim more from the Wall Street cream, will get a far more receptive hearing from a de Blasio administration.
Amy Simon of She's History joined in with some fabulous female facts as she does every Thursday morning.
And Senator Bernie Sanders weighed in on the future of money in politics, the DC shutdown, the debt ceiling and much more.
We'll be back Monday morning… in the meantime, check out the deal that Credo Mobile is offering our listeners. It's a great way to support progressive causes and support this show!