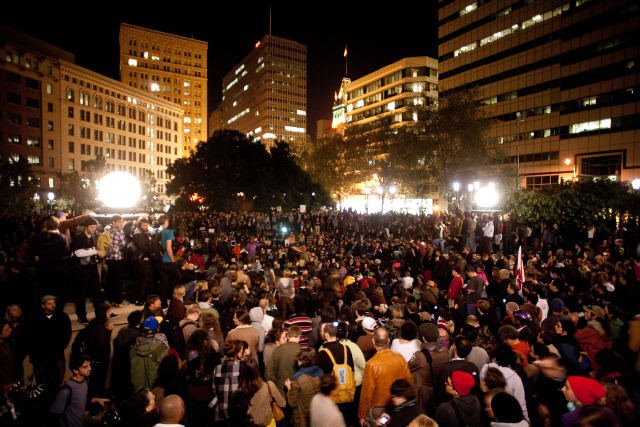 That was the scene in Oakland last night – following two nights of brutal police action that resulted in one 24-year old Marine, two-tour Iraq war veteran Scott Olsen hospitalized, in critical condition, with a skull fracture and swelling of the brain.  The occupiers in Oakland were not to be deterred.  If anything, this police action probably intensified their resolve.
At this meeting, as AlterNet's Joshua Holland recounted on this morning's show, those present voted in favor of a general strike to happen on Wednesday, November 2.
From OccupyOakland.org:
Below is the proposal passed by the Occupy Oakland General Assembly on Wednesday October 26, 2011 in reclaimed Oscar Grant Plaza. 1607 people voted. 1484 voted in favor of the resolution, 77 abstained and 46 voted against it, passing the proposal at 96.9%. The General Assembly operates on a modified consensus process that passes proposals with 90% in favor and with abstaining votes removed from the final count.

PROPOSAL:

We as fellow occupiers of Oscar Grant Plaza propose that on Wednesday November 2, 2011, we liberate Oakland and shut down the 1%.

We propose a city wide general strike and we propose we invite all students to walk out of school. Instead of workers going to work and students going to school, the people will converge on downtown Oakland to shut down the city.

All banks and corporations should close down for the day or we will march on them.

While we are calling for a general strike, we are also calling for much more. People who organize out of their neighborhoods, schools, community organizations, affinity groups, workplaces and families are encouraged to self organize in a way that allows them to participate in shutting down the city in whatever manner they are comfortable with and capable of.

The whole world is watching Oakland. Let's show them what is possible.

The Strike Coordinating Council will begin meeting everyday at 5pm in Oscar Grant Plaza before the daily General Assembly at 7pm. All strike participants are invited. Stay tuned for much more information and see you next Wednesday.
There's been a huge outpouring of support for Scott Olsen in the wake of his injuries at the hands of the Oakland PD, and much deserved criticism of the way Mayor Jean Quan handled the situation.  Keith Olbermann was quite clear in his criticism, saying "Quan must repent or resign":
Thankfully, she seems to have repented, releasing the following statement:
We support the goals of the Occupy Wall Street movement: we have high levels of unemployment and we have high levels of foreclosure that makes Oakland part of the 99% too. We are a progressive city and tolerant of many opinions. We may not always agree, but we all have a right to be heard.

I want to thank everyone for the peaceful demonstration at Frank Ogawa Park tonight, and thank the city employees who worked hard to clean up the plaza so that all activities can continue including Occupy Wall Street. We have decided to have a minimal police presence at the plaza for the short term and build a community effort to improve communications and dialogue with the demonstrators.

99% of our officers stayed professional during difficult and dangerous circumstances as did some of the demonstrators who dissuaded other protestors from vandalizing downtown and for helping to keep the demonstrations peaceful. For the most part, demonstrations over the past two weeks have been peaceful. We hope they continue to be so.

I want to express our deepest concern for all of those who were injured last night, and we are committed to ensuring this does not happen again. Investigations of certain incidents are underway and I will personally monitor them.

We understand and recognize the impact this event has had on the community and acknowledge what has happened. We cannot change the past, but we are committed to doing better.

Most of us are part of the 99%, and understand the spirit of the Occupy Wall Street Movement. We are committed to honoring their free speech right.

Finally, we understand the demonstrators want to meet with me and Chief Jordan. We welcome open dialogue with representatives of Occupy Wall Street members, and we are willing to meet with them as soon as possible.
Way to go Occupy Oakland! That is what democracy looks like.
This morning on the show, I was also honored to speak with Jim Hightower.  The commentator, author, radio host and all around amazing person told us about a new effort he has embarked on, along with The Nation's Katrina vanden Heuvel, and the former publisher of Mother Jones, Jay Harris.  It's the We The People campaign, and it's all about getting corporate money out, and people in!
Need more? Watch this:
Today's show was a busy one, and I truly screwed up. Instead of hitting the button to save today's ustream video, I hit the delete button. Damn ustream doesn't seem to realize that we are idiots that I'm an idiot, so doesn't even ask "are you sure you really want to delete this?" like so many other places do…
Oh well, I promised I'd post this video here, as the ustream audience couldn't hear it anyway. It's from yesterday's public(!) hearing of the Super Committee, figuring out in just how many ways they'll screw the people in this country who need help the most. Leah Bolger, VP of Veterans for Peace, has been in DC for the past few weeks, taking part in the occupation of Freedom Plaza. She knew she wouldn't have access to the committee any other way, so showed up yesterday. Here's what happened:
And finally, because we must ALWAYS call the liars at Fox out for the shit they make up, here's a whopper. Just yesterday, the fake news channel ran this story: EXCLUSIVE: ACORN Playing Behind the Scenes Role in 'Occupy' Movement, and not one single word of it is true.
Greg Basta, deputy director of NYCC (an organization smeared in that piece of fiction) joined me on the show to debunk the bullshit.
That's it for this week…  talk to you Monday.
Solidarity!