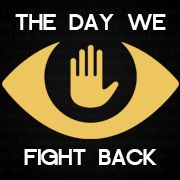 A coalition of activist groups, companies, and online platforms – and sites like this one – are joining forces today to fight back against the NSA's surveillance program. This day of activism was announced on the eve of the anniversary of the tragic passing of activist and technologist Aaron Swartz. The protest is both in his honor and in celebration of the victory over the Stop Online Piracy Act two years ago this month, which he helped spur.
Participants including Access, Demand Progress, the Electronic Frontier Foundation, Fight for the Future, Free Press, BoingBoing, Reddit, Mozilla, ThoughtWorks, and more to come, will join potentially millions of Internet users to pressure lawmakers to end mass surveillance — of both Americans and the citizens of the whole world.

On January 11, 2013, Aaron Swartz took his own life. Aaron had a brilliant, inquisitive mind that he employed towards the ends of technology, writing, research, art, and so much more. Near the end of his life, his focus was political activism, in support of civil liberties, democracy, and economic justice.

Aaron sparked and helped guide the movement that would eventually defeat the Stop Online Piracy Act in January 2012. That bill would have destroyed the Internet as we know it, by blocking access to sites that allowed for user-generated content — the very thing that makes the Internet so dynamic.
Click through to thedaywefightback.org, or on the banner at the bottom of the page to get involved and find out more.
In August of 2013, just about eight months after Aaron Swartz took his life and just two months after we first learned of Edward Snowden and got the first look at the troves of information he'd release on the NSA abuses, I spoke with Congressman Alan Grayson about both subjects. We listened back to some of it this morning.
Greg Palast wrote about Aaron Swartz shortly after his death shortly after his death in a piece for Vice magazine called "Aaron Swartz died for Piers Morgan's Sins". I know, you're asking the same question I did, "what does Piers Morgan have to do with Aaron Swartz? and why mention them in the same breath? For that, you'll have to read the piece and/or listen to our interview on today's show. But Palast did what he always does so well, and tells a few stories, joining them together to beautifully make an important point.
He also wrote a short companion piece yesterday, "Rest in peace, Aaron Swartz," as a way to let us all know about today's The Day We Fight Back action.
Find all of Greg's investigative journalist at GregPalast.com and, while you're there, check out his new film, Vultures and Vote Rustlers!
In the second hour, as she does every Tuesday morning, GottaLaff checked in from The Political Carnival to talk with me about the rest of the news. Some of the things we discussed today:
And… this awesome interview from the KTLA Morning News in which Sam Rubin gets owned by Samuel L. Jackson