Deeply concerned by inhumaneness of drive hunt dolphin killing. USG opposes drive hunt fisheries.

— キャロライン・ケネディ駐日米国大使 (@CarolineKennedy) January 18, 2014
We can thank the new US Ambassador to Japan, Caroline Kennedy, and Yoko Ono too, for the fact that we're talking about the annual slaughter of dolphins at Taiji Cove in Japan.
I first learned of the horrific practice in the summer of 2009. I was hosting a nightly show on Air America Radio, and was sent a review DVD of the documentary The Cove
Academy Award® Winner for Best Documentary of 2009, THE COVE follows an elite team of activists, filmmakers and freedivers as they embark on a covert mission to penetrate a remote and hidden cove in Taiji, Japan, shining a light on a dark and deadly secret. Utilizing state-of-the-art techniques, including hidden microphones and cameras in fake rocks, the team uncovers how this small seaside village serves as a horrifying microcosm of massive ecological crimes happening worldwide. The result is a provocative mix of investigative journalism, eco-adventure and arresting imagery, adding up to an unforgettable story that has inspired audiences worldwide to action.
Ric O'Barry didn't produce or direct the film, but is featured prominently in it. In the 1960s, O'Barry worked at the Miami Seaquarium, capturing and training dolphins – including the five dolphins who played Flipper on the TV show. He tells the story of how Kathy (the one who played Flipper the most) "committed suicide" – which made him realize that capturing dolphins and training them to do stupid tricks was simply wrong.
He's spent the subsequent 4 decades plus working to change our attitudes towards these intelligent, magnificent mammals. On the first Earth Day, in 1970, O'Barry founded The Dolphin Project, dedicated to freeing captive dolphins who were viable candidates and educating people throughout the world to the plight of dolphins in captivity. In January, 2007, O'Barry became the Marine Mammal Specialist for Earth Island Institute and Director of Save Japan Dolphins coalition: www.SaveJapanDolphins.org.
You can get loads of information at both of those links on how to fight back against the horrific roundup and slaughter, and learn why we shouldn't be keeping these animals in captivity.
Ric O'Barry joined me on the show this morning to talk about the heinous practice, and tell us what progress has been made in the years since The Cove was released. If you haven't yet seen The Cove, the entire thing is embedded below. Be forewarned, it's graphic, gory and truly ugly. But you need to see it.
Speaking of killing… Susie Madrak of Crooks and Liars joins in every Wednesday morning for a discussion of what's in the news. This morning, she also told us that a good friend of hers had committed suicide. Although Susie's friend took her own life, I believe she was killed by the same thing that killed Paddy Kraska – the economic inequality in this country.
Susie's friend was a baby boomer who lost lost her job due to the economic disaster brought on by the Bush Crime Family. She found herself in the same sad condition as so many of us – no job, not enough money to live and very few options.
Yesterday, we spoke of Paddy's situation – no heat or hot water in a very cold Indiana winter, and no access to decent health care. Her circumstances killed her. I'd say the same of Susie's friend who, when she was able to find a new job, couldn't survive on the fraction of what it paid.
Although I've spoken openly on my show about my battles with depression, today I admitted that I often think of suicide. The only thing that's kept me from doing more than think about out it is what it would do to those I'd leave behind.
But having these discussions just as we learn from a new Oxfam report that the 85 richest people in the world are sitting on as much wealth as the poorest half of the world's population combined – 3.5 billions people – is enough to make you sick. In case you're wondering who those 85 people are, this is a good place to start.
These two charts (from The Guardian's article on the report) show why so many of us are now suffering from poverty: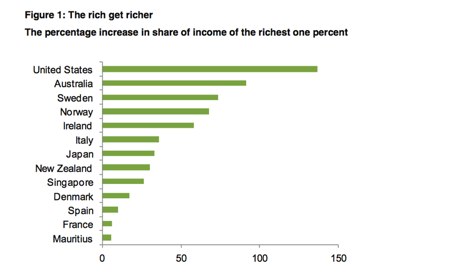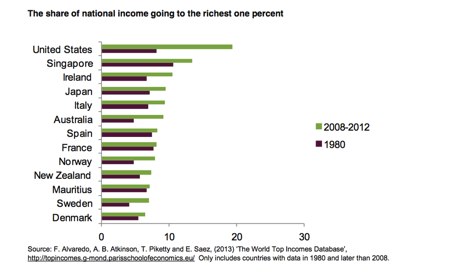 Sick enough yet?
Finally, there was some good news to share. Here in Florida (where things are woefully backwards), a group of six couples and the organization Equality Florida filed suit yesterday in a Florida court, seeking the freedom to marry. Deputy Director Stratton Pollitzer joined in at the top of the show to explain that Florida is actually leading the South in stepping forward on civil rights and marriage equality! Visit Equality Florida and Get Engaged!