Unfortunately, it was actually Tony Hayward and not Jimmy Stewart in Congress today.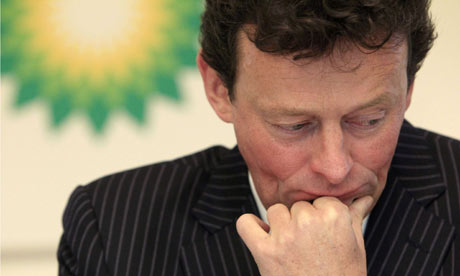 In what was an otherwise mostly worthless exercise, there were a few moments of excitement. When Tony Hayward was finally sworn in and began his testimony -after more than an hour of gratuitous opening comments by the committee members – Code Pink's Diane Wilson, who happens to be a shrimper, jumped up with oil on her hands and face screaming "you need to be charged with a crime!"
Then, the questioning began. Unfortunately the answers were few and far between. Consisting mostly of "I don't know" and "I'm a CEO, not an engineer Jim" (ok, I made that one up), Hayward gave us a whole lot of nothing!
Listen for yourself: Tony Hayward in 25 seconds (courtesy of Gotta Laff at The Political Carnival)
But the biggest story of the day was the apology. Not from Tony Hayward to the American people for fucking up our ocean and a handful of states, and possibly for starting the beginning of the end of the world.  No, this apology came from Congressman Joe Barton (R-of course-TX), the recipient of the most money from the oil industry of any member of Congress EVER.  (Barton has received $100,470 in campaign donations from oil and gas interests since the beginning of 2009, according to the Center for Responsive Politics. The same group reported that since 1990, political action committees of the oil and gas industry and people who worked for it have given more than $1.4 million to Barton's campaigns, the most of any House member during that period.)
Joe Barton actually apologized TO Tony Hayward and BP for the "shakedown" they were subjected to yesterday at the White House and the $20 billion "slush fund" they were forced to fork over.  No shit!
And then, after the recess, the apology for the apology. Seriously.
House Republican leaders told Rep. Joe Barton that he would be stripped of his ranking member status on a key committee Thursday if he did not immediately apologize for comments earlier in the day accusing President Obama of a "shakedown" of oil giant BP, sources told the Daily Caller.

"He was told, 'Apologize, immediately. Or you will lose your position, immediately," a House GOP leadership aide said, describing a meeting between Barton and House Minority Leader John Boehner and House Minority Whip Eric Cantor.
I put together a bit of a tribute to the shakedown accusation and the apology for the apology that followed:
We could never come up with this stuff on our own!
On tonight's show, I spoke with Kate Sheppard, environmental reporter for Mother Jones, who live tweeted the hearing this morning. And John Fugelsang returned for our semi-regular Thursday evening get together.
Don't forget, I'll be guest hosting the Randi Rhodes show tomorrow, so please join me from 3-6pm ET…