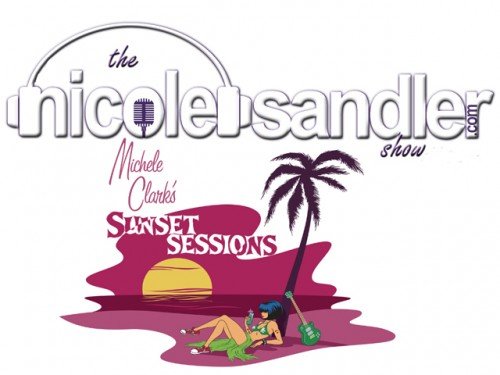 Although I've spent more than a decade doing news/talk radio, my favorite jobs were on the music side of radio! As the times we're living in grow more uncertain and, frankly, frightening, I find myself taking more and more comfort from music.
So many artists have been sharing their talents and creativity over the interwebs during this strange time of staying safely at home to avoid contracting or spreading the coronavirus that's plaguing our world.
On Monday, May 18, 2020, I officially brought a musical showcase back to the Nicole Sandler Show when I welcomed Michael McDermott on for a conversation and to play a few songs for us. It went so well that I invited Dan Navarro on the following week.
I invited my old friend Michele Clark- the woman behind the Sunset Sessions events with whom I've been working on bringing back the sessions and starting up a radio show- to join in. Hopefully this partnership will lead to some amazing artists joining us and lots more down the line.
Week three featured Sara Hickman, and on our fourth outing, it was Lili Haydn.
I'll update this page each week. Enjoy!
Monday Music with #5 Jonatha Brooke

Join us Monday June 15 at 5:30 ET/ 2:30PT for a Music Monday sunset session with the wonderful Jonatha Brooke!
Monday Music with #4 Lili Haydn
Today, we welcome Lili Haydn to the show. She's a Grammy award winning violinist/singer/songwriter/recording artist/film composer. She's also a progressive activist who graduated from Brown University with a Political Science degree. She's collaborated with amazing artists including Herbie Hancock, Roger Waters, Robert Plant & Jimmy Page, and George Clinton (who called Lili the Jimi Hendrix of the violin!). Check out her website at lilihaydn.com and find her @lilihaydn on all the usual social media places…
Monday Music #3 with Sara Hickman
Today, we welcome Austin-based singer/songwriter Sara Hickman for some musical medicine for what ails us. Unfortunately, what ails us is a very sick country, still battling the COVID-19 pandemic and topped with a hefty serving of white supremacy, police brutality, and institutionalized racism. Good thing Sara Hickman will can help ground us.
Check out Sara's Facebook page, where she performs a song each day at 2:30 Austin TX time, and a full hour-long concert on Fridays!
 Monday Music #2 — Dan Navarro
For the second installment of Monday Music, I invited my old friend Dan Navarro! He's back with Shed My Skin, his first solo studio album after more than 20 years and 14 albums with his former partner Eric Lowen, who died in 2012 from ALS, officially marking the end of Lowen & Navarro.
Monday Music #1 — Michael McDermott
We kicked off the series with Michael McDermott, conversation, a few live songs, and the debut of the video for the title track of his new album, "What in the World"- available June 5, 2020!