We covered a lot of territory on the show this morning, but the overriding theme was laughter. After the last few weeks, I thought we needed some "funny" to counter the angst.
I promised another edition of Oy, FloriDUH.. so here it goes (note: there is nothing even remotely funny about any of these stories – but taken together, they show the absurdity of life in America's penis):
#1 Police in Jacksonville arrest and reportedly assault a man for walking while black on the wrong side of the street.
First Coast News obtained court papers which state that Wingate was walking down the road in December when a JSO Police Officer stopped him and asked to talk.

When Wingate told the officer that he was running late for an appointment, the officer cited him for walking on the wrong side of the road.

According to the court papers, the officer then hit Wingate in the face and engaged his Taser, which is when Wingate called 911 for help.

Wingate had to spend a night in jail, and the State Attorney's Office took the case to trial. Seriously, they took this case to court and tax dollars are paying for this bullshit.

Wingate was actually charged with resisting arrest without violence, and walking down the wrong side of the road. But even in court, the officer testified that he wasn't sure what side of the road Wingate was on.

And even in real life, we do not get arrested for walking, unless you're black and in Florida.
#2 Police in Tallahassee violently assault woman arrested for DUI
Dashcam video shows officers giving West a field sobriety test after she crashed her SUV into a house on Aug. 10. West is placed in a patrol car, but she is later asked to get out of the car.

A struggle occurs while the woman is asking her about her husband and a car seat for her child, and the two officers slam her head into the cruiser. And then the two men force her to the ground with their full weight, causing her to scream in agony as her face is smashed on the pavement.

But Officer Chris Ormerod's police report described this incident this way: "West was placed on the ground where she began to thrash and kick wildly. West kicked me in the groin area and kicked officer Schmidt in the leg… West was placed in a thigh lock on the ground as I secured her hands. While handcuffing West's hands, she continued to violently make attempts to grab for my groin area with her hands."

Conrad said that he "had a physical reaction to that tape the first time I saw that video."

"I don't care if she was drunker than Cooter Brown and took a breath test and blew through the moon … that's not warranted. That's not okay," Conrad insisted to WCTV.

State Attorney Willie Meggs told the station that the dashcam video was "very disturbing."

"I didn't see anything in the video that would cause me to believe that this woman needed anybody to use any type of force or restraint on her," Meggs explained.
#3 FL criminal Governor Rick Scott delayed a scheduled execution to accommodate state Attorney General's fundraiser.
Florida Attorney General Pam Bondi (R) kicked off her re-election campaign by admitting she made a mistake when she asked Gov. Rick Scott to delay an execution because it conflicted with a fundraiser.

Marshall Lee Gore, 50, was scheduled to die on Monday for the rape and murder of 30-year-old Robyn Novick and for the murder of 19-year-old Susan Roark.

But Scott advised Florida State Prison Warden John Palmer last month that he had moved the execution to Oct 1. When he was asked about the move on Monday, the governor said that he was complying with a "request of the attorney general."
#4 Speaking of fundraisers, the afore-mentioned criminal Governor Rick Scott also had to cancel one of his scheduled fundraisers: a private alligator hunt!
Gov. Rick Scott's re-election campaign on Tuesday cancelled a planned $25,000-a-person fund-raiser that featured a private alligator hunt. The campaign has not yet given a reason for the decision, but the event — and its quick demise — became a social media sensation and prompted media inquiries. The unusual event, first reported by SaintPetersBlog, was to have taken place in New Smyrna Beach on Oct. 18.

On Twitter Tuesday, former Republican Sen. Paula Dockery of Lakeland questioned how Scott's campaign could put on such an event, with limits on the number of alligator permits in the state. "This raises a few questions. Usually licenses/permits done by lottery. How do they get enough for all donors?" Dockery tweeted.

Scott, at an "It's Your Money" tax-cut event on Tuesday afternoon in downtown Fort Lauderdale, brushed off a question about the event and told a reporter to contact the Republican Party of Florida, even though the invitations made clear that Scott's campaign was handling reservations.
#5 If you thought the prosecution threw the Trayvon Martin murder case, you're not alone. The Medical Examiner thinks so too!
Dr. Shiping Bao, the Volusia County medical examiner who handled teenager Trayvon Martin's body after he was shot by George Zimmerman in February of 2012, claims that the prosecution team in the case were biased against the African-American teen and intentionally lost. According to the former assistant coroner, his autopsy results showed that it was impossible for Martin to have been on top of George Zimmerman when the gunman pulled the trigger.
FloriDUH, indeed. To be continued, I'm sure….
On the show today, Dave Johnson, senior fellow at the Campaign for America's Future, checked in to tell us about the AFL-CIO convention that was held in Los Angeles this week. Find his coverage of that conference – and more – here.
Absurdity Today's Julianna Forlano checked in to talk about Tuesday's NYC elections, in which the progressive, Bill de Blasio won big, Eliot Spitzer lost, and Anthony Weiner petered out. (sorry, I couldn't resist)
If you haven't yet checked out Absurdity Today, perhaps this will entice you:
She's History's Amy Simon is back after a short hiatus… She told us about some fabulous females who advocated for peace including Jeannette Rankin who said "killing more people wont help matters," Julia Ward Howe and her "mothers day proclamation" appeal for world peace, and Lorraine Schneider who created the upbiquitous "War is not healthy for children and other living things" poster..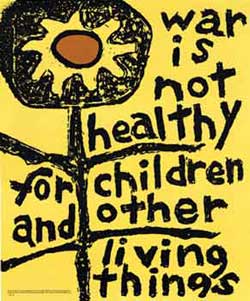 And finally, the newest contributor to The Political Carnival, David Garber (author of Hollywood Huckster: A Memoir of Hysterical Proportions) helped finish the show. While looking for the funny this morning, I came across the following video that he had posted, which literally made me laugh out loud:
And just because it was so fucking funny, this:
And finally, no, I didn't forget… but be warned, it's not funny. Vladimir Putin penned an op-ed published today by the NY Times. Of it, Chris Hayes tweeted:
Putin's awful, the op-ed is trolling, but also a little taste of what it feels like to other country's citizens to be lectured at by US

— Christopher Hayes (@chrislhayes) September 12, 2013