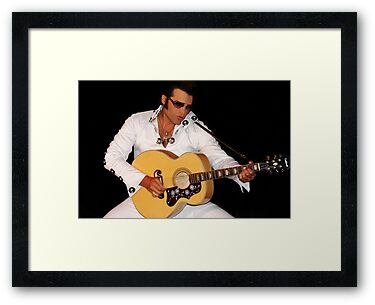 While the country has been obsessed with coverage of the Boston marathon bombing, there's been a surreal story unfolding in Mississippi.  Some of us heard the news that an Elvis impersonator named Paul Kevin Curtis had been arrested in connection with the ricin-laced letters sent to a US Senator, President Obama and a Mississippi Judge.  Perhaps we should have been paying closer attention, as this story sounds like it could be the plot of an episode of Monk!
Criminal charges were dropped Tuesday against a Mississippi man initially accused of mailing poisoned letters to President Obama and two other officials.

The FBI said it had no evidence connecting the man, Paul Kevin Curtis, to the plot. A federal judge released him from jail and federal authorities were focusing on a different individual, according to The New York Times.

Curtis, 45, a sometime Elvis impersonator, said he had been framed by a personal enemy. Curtis held a news conference after his release. "I respect President Obama," he said. "I love my country and would never do anything to pose a threat to him or any other U.S. official."

He said he had never even heard of ricin, the biological poison made from castor beans. "I thought they said rice," he said. "I said, 'I don't even eat rice.'"
The newest wrinkles in the story make for an even better plot twist for Monk:
Five days after he was identified and arrested for allegedly mailing ricin-laced envelopes to President Obama, Senator Roger Wicker, and Mississippi judge Sadie Holland — and one day after FBI agentsfailed to find any ricin-making equipment in his house — Mississippi resident and Elvis impersonator Paul Kevin Curtis has been released from custody. (The charges against him, however, have not been dropped.) The Associated Press reports that Curtis, who maintained his innocence to federal investigators, was freed on Tuesday morning after a scheduled hearing was delayed for 90 minutes and eventually cancelled, after which the chief deputy U.S. Marshals Service declined to specify whether Curtis's release carried any conditions. (According to ABC News, Curtis was released on bond for an unknown amount.) When asked about the release Tuesday afternoon, Sen. Harry Reid said there was "alleged ricin incident" at Joint Base Anacostia-Bolling in Washington — just days after there was reportedly "white substance" at a base in Virginia.

Curtis's release is the latest turn in the increasingly unpredictable FBI investigation into the ricin envelopes,which tested positive multiple times for the fast-acting poison. Given the lack of hard evidence against Curtis, the FBI is reportedly investigating the possibility that Curtis was framed by someone who carried a grudge against him. Mailing poisonous envelopes to Washington, D.C. seems like an unlikely way to frame someone, but Curtis's lawyer, Christi McCoy, suggested exactly that scenario during her testimony:

McCoy said in court that someone may have framed Curtis, suggesting that a former business associate of Curtis' brother, a man with whom Curtis had an extended exchange of angry emails, may have set him up.

The main person being fingered in this framing plot appears to be a Mississippi martial arts instructor named J. Everett Dutschke, who supposedly feuded with Curtis after the latter uploaded a certificate indicating his membership to Mensa, the high IQ organization, to his MySpace page. The Northeast Mississippi Daily Journalreported on Monday that FBI agents had spoken to Dutschke before searching his home in connection to the ricin investigation. "I wasn't going to be pulled into his fantasy world," Dutschke told the paper, after admitting that he met Curtis in 2010.
Truth is stranger than fiction, indeed.  Stay tuned….
Speaking of truth, lots of people just won't believe it when they see it – whether it's about President Obama's birthplace, the Sandy Hook shootings, or the Boston Marathon bombings.  If you want to see what some people are saying who have an antagonistic relationship with reality… read "6 Mind Blowingly Ridiculous Conspiracy Theories Surrounding the Boston Bombing" and check out the #FreeJahar hashtag on twitter.
She's History's Amy Simon joined in on today's show, as did Crooks and Liars' John Amato.  John Fugelsang was missing in action, but he'll join us again soon. Promise!