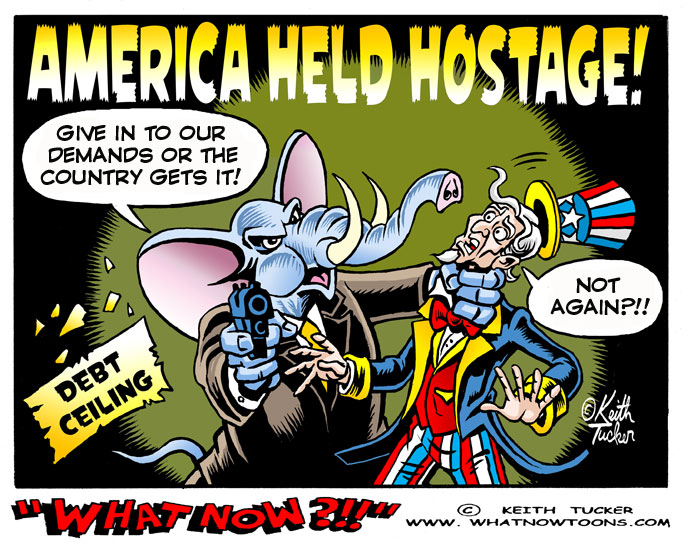 Oy. Here we go again!  They released they can't use their threats to "de-fund Obamacare" – so now they're just threatening to tank the economy and the good faith and credit of the country again.
If you're wondering what's in their ransom note this time, wonder no further.  Zach Carter of Huffington Post joined in on the show this morning to talk about some of the outrageous demands he detailed in "House GOP Debt Ceiling Offer To Include Pro-Wall Street Provisions, Health Care Cuts" including
… a significant overhaul of the environmental and financial regulatory system, would cut pensions for Federal employees and raise taxes on immigrant families with parents who do not have a Social Security number….

The plan would increase Medicare means testing, and would eliminate social service block grants and a fund for preventative healthcare in the Affordable Care Act that conservatives have characterized as a "slush fund." Block grants are a capped entitlement program given to states to help fund services like daycare, transportation and home-delivered meals. The Prevention and Public Health Fund has included funds for training primary care doctors and supporting healthy corner stores.

Coal and oil companies would benefit from provisions to expand offshore drilling and drilling on federal lands. The proposal blocks the federal government from regulating greenhouse gas emissions and coal ash, and would give Congress the power to veto any "major" regulation issued by a federal agency (because an affirmative vote would be required, Congress could void new rules simply through inaction).

In addition, the document claims $23 billion in budget savings from a provision to "Eliminate Dodd-Frank Bailout Fund." The money, however, is not legally permitted to support collapsing banks. Dodd-Frank established the fund to allow regulators to pay some creditors of large banks when they fail, in order to prevent a domino of failures akin to what occurred in 2008 when Lehman Brothers filed for bankruptcy. Absent the fund, the government would have no effective way of limiting the economic damage from a bank's failure, increasing the likelihood that a bailout would be necessary….

Wall Street banks would benefit from an item that gives Congress the authority to slash funding for the Consumer Financial Protection Bureau… The document claims $5 billion in "budget savings" from a CFPB overhaul; and because the CFPB's annual budget is currently about $450 million, to achieve that figure, the agency would have to be entirely defunded. …

The legislation is also expected to include language backing the Keystone XL pipeline, principles for tax reform and a one-year delay to the individual mandate of the Affordable Care Act.
If you think that those proposals are truly insane, you're not alone.  Forbes' columnist Rick Ungar told us on the show this morning that he believes it could be the end of the GOP as we know it today, and wrote it up in a column published this morning entitled "R.I.P. G.O.P.-House Debt Ceiling Proposal Could Bring The Final Curtain Down On The Republican Party."
Also on the show today, I was joined by Bob Kincaid of the Head On Radio Network to talk about what is really the bane of his existence – Mountaintop Removal Mining.  Bob lives in West Virginia and has been working to stop the raping of our planet – a practice that's also making people really sick.  He's a co-founder of the ACHE campaign (Appalachian Community Health Emergency), and is working to get the ACHE Act passed.
And finally, some fabulous female facts, today about Susan B. Anthony, from She's History's Amy Simon.