I interview lots of authors on the show, and get sent lots of books whose authors I don't interview. I've amassed a library of fascinating books that I'm offering here for a minimum donation of $10 each. Feel free to send more!
Here's how it works. Check out the list of books below. Clicking on the book covers will take you to each book's description on Amazon. Of course, you're welcome to purchase from Amazon (and we'll get a small commission on each sale), or you can send me an email telling me which of the books you'd like, and I'll remove them from the available list.
Greg Sargent – An Uncivil War: Taking Back our Democracy in an age of Trumpian Disinformation and Thunderdome Politics
Sally Kohn – The Opposite of Hate
     Mitch Landrieu – In the Shadow of Statues: A White Southerner Confronts History
    Louis Hyman – Temp: How American Work, American Business, and the American Dream Became Temporary
   David D. Kirkpatrick – Into the Hands of the Soldiers: Freedom and Chaos in Egypt and the Middle East
   Eric W. Saeger – Russian Nazi Troll Bots! The Busy Person's Guide to How Trump's Trolls Won the Internet, What's Ahead, and What You Can Do
   Elaine Weiss – The Woman's Hour: The Great Fight to Win the Vote

   Johann Hari – Lost Connections: Uncovering the Real Causes of Depression- and the Unexpected Solutions
   Patrisse Khan-cullors & asha bandele – When They Call You a Terrorist: A Black Lives Matter Memoir
   Timothy Keller – The Prodigal Prophet: Jonah and the Mystery of God's Mercy
   David Montero – Kickback: Exposing the Global Corporate Bribery Network
   DeRay Mckesson – On the Other Side of Freedom: The Case for Hope
   Tim Ortman – Newsreal: A View Through the Lens When…
   David Faris – It's Time to Fight Dirty: How Democrats can Build a Lasting Majority in American Politics
   Amanda Marcotte – Troll Nation: How the Right Became Trump-Worshipping Monsters Set on Ratf*cking Liberals, America, and Truth Itself
   Thomas Frank – Listen, Liberal: Or What Ever Happened to the Party of the People?
   Joshua Zeitz – Building the Great Society: Inside Lyndon Johnson's White House
Debbie Cenziper & Jim Obergefell – Love Wins: The Lovers and Lawyers Who Fought for the Landmark Case for Marriage Equality
   Ted Rall – The Book of Obama: From Hope and Change to the Age of Revolt
   Lee Fang – The Machine: A Field Guide to the Resurgent Right
  Don Lessem – Who Said It? Trump or This Other Schmuck?
Looking for a great family gift idea? Check this out:
If you have 8mm films in need of transferring, consider using my FilmFix Portal, or type in the promo code NICOLE on the FilmFix.com website, when placing your order. Either way, you will benefit from a discount and I will benefit from a small commission.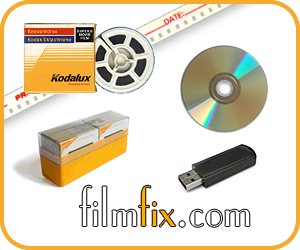 FilmFix is a husband and wife team who are known for their personalized service and their professional, high definition (HD) film transfers. They transfer onto hard drive, USB-stick, Blu-ray, or DVD. They also perform full-frame, high resolution (6K) 35mm slide transfers and can even upscale video tape transfers to HD, if desired.
Please be sure to only send them family footage, as they do not transfer anything with copyright protection.