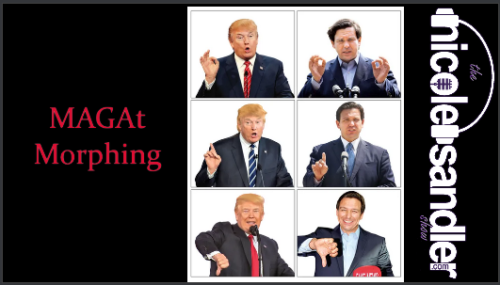 Download here or click below to play, (or watch the video at the bottom of the page!)
Two of the more despicable members of the extreme right wing faction of American politics are growing more indistinguishable from each other each day. And neither one of them is having a good day today.
There's TFG, Donald Trump, who must feel the walls closing in on him. Yesterday, HIS hand picked choice for Special Master proved he's not having any of the maga circus and is not a puppet. Trump is quaking in his golf shoes.
Then this morning, NY AG Letitia James laid out the specifics in a 222 page $250 million lawsuit against TFG, his awful spawn and the execs who enable his criminal business activities for decades. And she made criminal referrals to the IRS and the SDNY (the DOJ)..
We'll talk about some of these developments with The Nations' new DC Bureau Chief Chris Lehmann.
Then Professor Harvey J. Kaye returns to the show to throw some historical shade on governor Floriduh man, who gets off on punking and demeaning Venezuelan refugees who've entered the US to LEGALLY apply for asylum.
Republican cruelty is endemic in the 21st century…