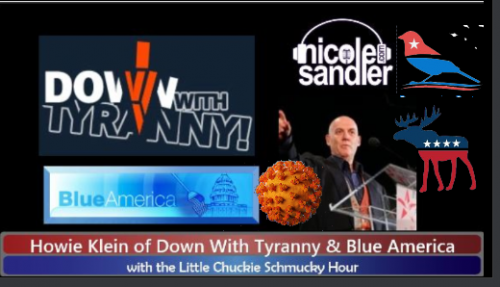 Download here or click below to play, (or watch the video at the bottom of the page!)
We have a standing date on the show every Thursday with Howie Klein. He writes at DownWithTyranny. com, and runs the Blue America PAC, finding and raising money for the best progressive candidates. One of his Blue America-endorsed candidates, Nina Turner, was defeated in a special primary to fill the congressional seat vacated by Marcia Fudge. She joined the administration as Secretary of Housing and Urban Development. The problem is, Nina Turner was targeted by the Democratic party establishment with a big assist from Republicans.
Howie wrote about the debacle here. We'll talk about what really happened. We also get the scoop on NY's Lt Gov Kathy Hochul, who may just become Governor if Cuomo is impeached or convinced to resign. And there's that recall election in California too… Ugh.
And we had a last minute addition to the show at top of the hour. Grant Stern of Occupy Democrats was physically removed from a meeting with Kevin McCarthy and a Florida Congressional contingent earlier today. After seeing what he posted on Twitter, I had to invite him on the show… and did!
I tried to ask @GOPLeader McCarthy a question after he decried Cuban police pickup up people in the streets.

Why does he oppose the bipartisan #January6thCommission?

A Congressional staffer had four cops pick me up and drag me from the room.

I still asked the question. pic.twitter.com/HDqrhvARaC

— Grant Stern is fully vaccinated (@grantstern) August 5, 2021
Here's the show, YouTube style. Enjoy…